German brands in China enjoy a significant market share and many are well-loved by Chinese consumers. According to statistics from the National Bureau of Statistics and the China Customs General Administration, from 2018 to 2021, the total amount of imports from Germany to China ranked first among European countries. In 2022, China's total imports from Germany reached US$109 billion.

As China's middle class expands and becomes more affluent, the demand for imported high-quality goods is expected to rise, providing opportunities for German brands in China to expand their market. Consequently, this also creates opportunities for emerging German brands to enter China via cross-border e-commerce. Apart from industrial and automotive brands, there are many German brands with a large following in China.
1. Sportswear Brand – Adidas
Adidas has been successful in China due to its strong brand awareness and effective marketing strategies. They have collaborated with celebrities and sports teams to promote their products and increase brand recognition. In addition, Adidas has created products that cater to the preference and interests of Chinese consumers, such as designs that incorporate traditional Chinese elements. Consumers can purchase Adidas products at offline stores in various Chinese cities and through various online shopping platforms.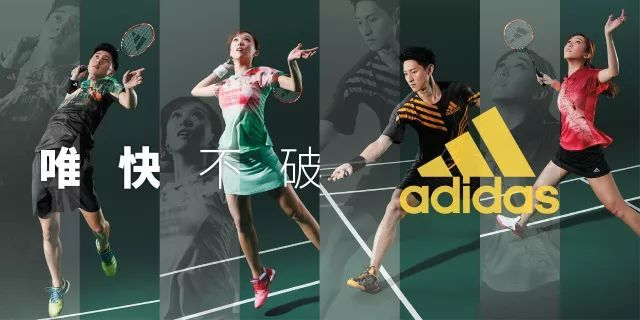 2. Luxury Brand – Hugo Boss
Hugo Boss has achieved success in China with its high-quality, fashionable, and elegant clothing. They have created products and collaborated with celebrities fashion bloggers to target affluent Chinese consumers. They have also established strategic partnerships with China cross-border e-commerce platforms such as Tmall to expand the display and sales channels of their products to reach a wider pool of potential customers. Additionally, they have opened flagship stores in prime locations in major Chinese cities to enhance brand awareness and influence.

3. Lifestyle Brand – Montblanc
Montblanc has been successful in China due to its reputation in luxury writing instruments, leather goods, and accessories. They have established their own e-commerce platform in China, including official websites and China cross-border e-commerce platform stores. Montblanc headquartered in Hamburg, have launched products in the past as tribute to the Great Wall of China and Emperor Kangxi. That 's how they have integrated into the Chinese culture to achieve better brand experience and product sales. Indeed, they focus on creating a brand image associated with refinement, class, and exclusivity, resonating with Chinese consumers who value status symbols. Additionally, they collaborated with artists, celebrities, and Chinese social media KOLs to create limited edition products that cater to local tastes and preferences.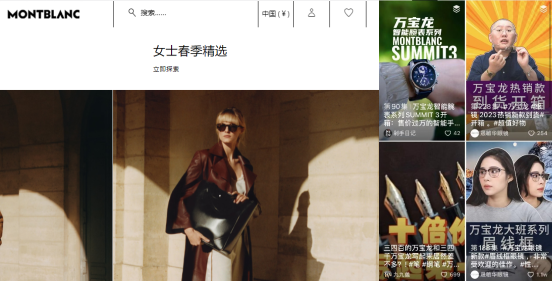 4. Contemporary Brand – MCM
MCM blends traditional craftsmanship with modern elements, pursues quality and fine craftsmanship. The brand is highly favored among young and trendy consumers. Leveraging collaborations with Chinese social media and KOLs, they market their brand through short videos targeting young consumers to increase their brand awareness and influence. MCM have opened flagship stores in prime locations across major cities in China. Their aim is to create exclusivity and luxurious brand experience. German brands are developing rapidly in the Chinese market, and brands like MCM have become fashion symbols for young Gen Z in China.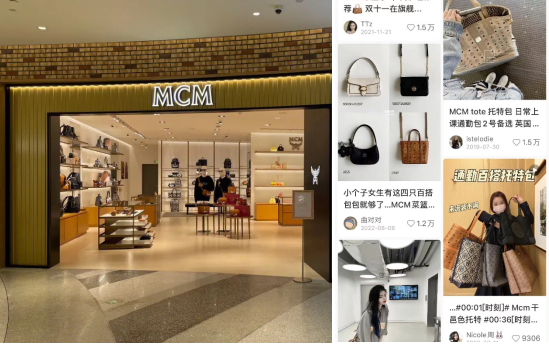 5. Sustainable Brand – Vaude
Vaude is a German outdoor brand that is committed to providing environmentally friendly, high-quality outdoor equipment and clothing for consumers. They use social media and e-commerce platforms to promote their sustainable practices and products. This strategy has resonated well with environmentally conscious Chinese consumers. In addition, Vaude prioritizes sustainability and eco-friendliness by donating 1% of their revenue annually to the World Wildlife Fund (WWF). They also work with local organizations in China to promote sustainable development practices and raise awareness of environmental issues. With the increasing trend towards green consumption and outdoor activities in China, German brands like Vaude are expected to have greater exposure and market opportunities.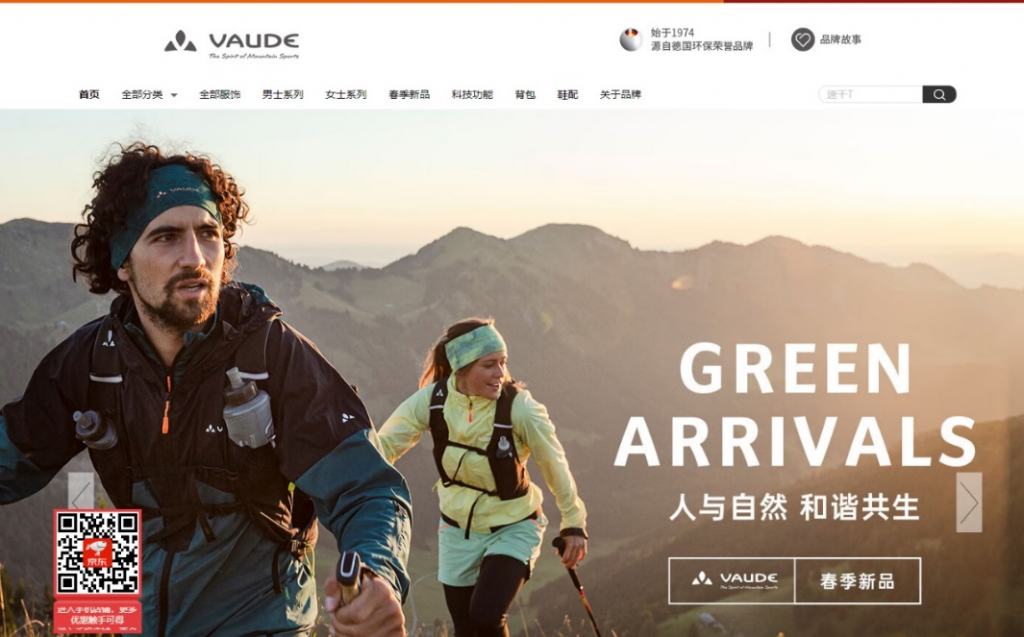 6. Food Brand – Ritter Sport
Ritter Sport is a German chocolate brand that reaches Chinese consumers through partnerships with China cross-border e-commerce platforms such as JD.com. They use Chinese social media platforms such as WeChat and Weibo to increase their brand awareness and interact with Chinese consumers. They create unique and engaging content such as interactive games, photography contests, and product giveaways to promote their brand. This helps to increase their followers and establish a loyal fan base in China. Additionally, Ritter Sport has created localized products and flavors that cater to Chinese consumers' tastes and preferences, such as green tea and red bean chocolates.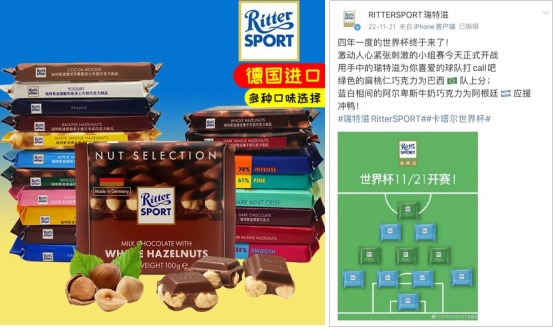 7. Beverage Brand – Beck's
Beck's is a German beer, and their distributor in China is China Resources Beverage (Holdings) Co., Ltd. One of the reasons for Beck's success in China is their ability to adapt to the local taste and preferences of Chinese consumers. Beck's has launched a series of products that are tailored to the Chinese market, including drinks with local flavors and customized packaging designs that cater to the needs and tastes of consumers. Beck's beer markets its brand through established partnerships with well-known retailers, catering companies, and hotels in China. They have aggressive advertising and promotional activities throughout the country. Ultimately their effective marketing strategies have helped to generate brand awareness and market share.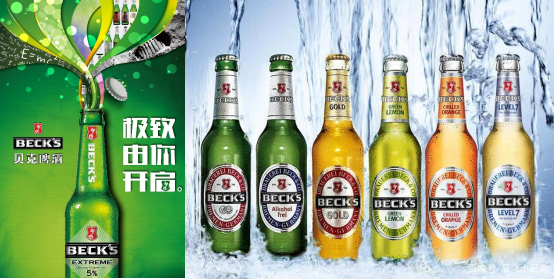 8. Baby Brand – Hipp
Hipp is a top German baby formula brand that has strict quality control measures that exceed Chinese regulatory standards. This helps to establish trust and credibility with Chinese consumers, who are particularly concerned about food safety and quality. Hipp has implemented many localized marketing strategies to cater to the specific needs and preferences of Chinese consumers. For example, they created products with local flavors such as apple, passion fruit, and other blended fruit purees to appeal to the taste of Chinese consumers. They also collaborated with Chinese social media KOLs to promote their products and increase brand awareness in China.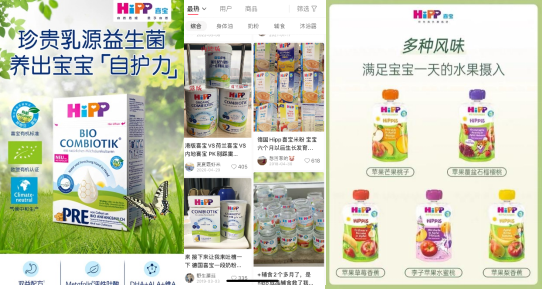 Overall, the success of many German brands in China market is due to high-quality products, localized marketing approach, effective e-commerce and social media marketing strategies. While the brands differ with their marketing investments, , they have been leading their brand in the respective categories as they continue to sell successfully in the Chinese market.
Ultimately, new German brands looking to enter the Chinese market will benefit from the strong branding foundation of the "Made in Germany" companies. However, German new brands don't have to invest heavily to sell direct to Chinese consumers. Entering the market via China cross-border e-commerce is a good way to start. Brands do not need to establish physical stores in China, but like any successful brands, they need to have good marketing strategies.
Want to know how your brand can enter the Chinese market through e-commerce and establish localized marketing strategies for social media marketing? Click to contact our experts for a free consultation.