As summer temperature keeps getting hotter every year, consumer expectations for their sun care products also rise. China national income has grown in the last decade and consumption for sunscreen and sun protection products have increased in the country. According to Euromonitor, China's sun care market is expected to reach RMB24.4 billion (US $3.5 billion) in 2025, with a compound annual growth rate (CAGR) of 10.5% from 2021 to 2025.

The market growth will inevitably lead to more products being introduced to consumers and brands face the challenge to adopt the right marketing strategies to own a share of the business. This article will highlight three key trends in China that are driving the business growth for sun care products.
Trend 1: Brands catering to the diversification and personalization of consumer demands
In the past, consumers mainly focused on product effectiveness, scent, ingredients, and brand popularity of sun care products for making their purchase decisions. However, as the consumer base continues to expand, marketing strategies based on sun care features, design, personalization, technology and product refinement; become emerging trends. For example, the popularity of outdoor activities such as camping, frisbee and rugby in recent years have led to sunscreen products emphasizing unique properties such as waterproofing, sweat resistance and accelerated post-sun repair to attract Chinese GenZ population.
Consumer knowledge for sun protection is escalating as more people are aware of the importance to also take care of their lips and scalp.  Indeed, lips are more susceptible to sun damage than our skin, which may not only cause darkening and deepening of lip color, but also increase lip wrinkles and affect beauty, according to the study. Therefore, many brands have developed and promoted sun care lip balms to meet specific users' needs. Importantly, different people have different requirements for sunscreen protection. Hence, sunscreens for children, pregnant women, men and others are also emerging trends in marketing strategies by brands.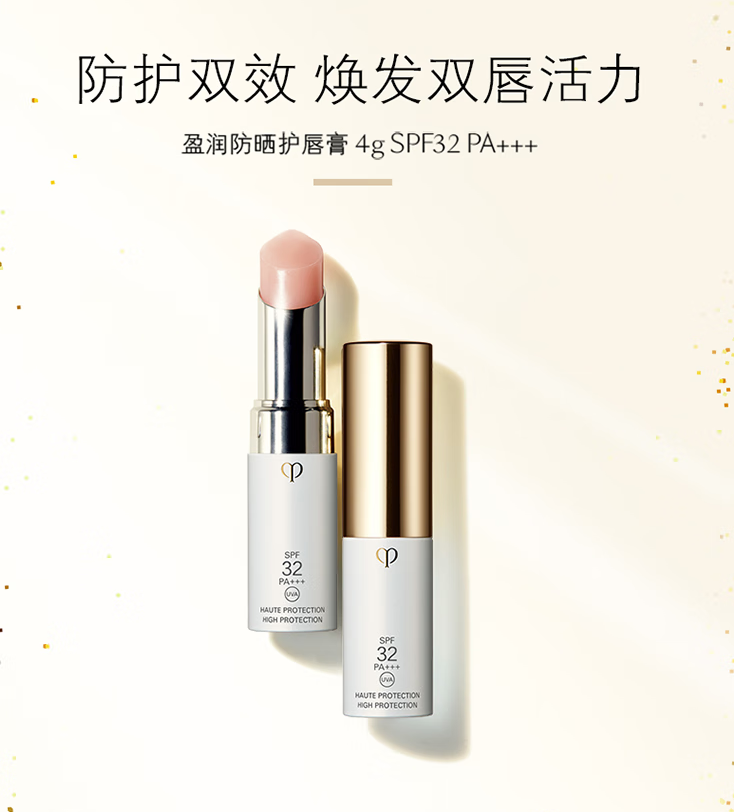 Trend 2: Increasing market competition between overseas and local brands
Looking at the strengths of overseas brands, Japanese sunscreens such as Anessa, Biore and Shiseido focus on the scientific aspects of their products and ingredients. These brands highlight the unique properties of their products having capabilities to offer the best sunscreen protection without harming the skin. Meanwhile, Thai sunscreen products such as Mistine, claim their products are most effective against skin tanning, and with a competitive pricing at about RMB1.9 per ml; Mistine's sales in China has been growing.
Local Chinese sun care and protection products are doing well too. Many have launched comprehensive and specialized products that cater to different consumer needs. Winona is a Chinese sun care brand that focuses on repairing sensitive and improves gentle skin using a plant-based formula. PROYA emphasizes the scientific aspects of their products and attracts a large number of consumers through marketing in Tik Tok and Xiaohongshu.
Trend 3: Focusing on environment friendly ingredients
According to data from iMedia Research, Chinese consumers are paying more attention to cosmetics ingredients and efficacy in 2023; and they account for 58.2% and 58.1% respectively. The importance of price ranks third at 51.1%. Analysts believe future consumer consumption will be more rational, with product effectiveness and other internal factors becoming key influence on purchase decisions.
In recent years, problems of marine pollution have become increasingly prominent. The chemical composition of many sunscreens or skincare products that enter the ocean can cause coral whitening, which negatively impacts the marine environment. With the gradual rise of water sports adoption, people's awareness of protecting the ocean has also increased.  More and more brands have launched "beach-friendly", "ocean-friendly" and "coral-free" sun care products.
The marketing trends for sun care products in China are slightly different from the western markets. Western consumers prefer to use sunscreen on beach vacations to prevent sunburn, while Chinese consumers use sunscreen to avoid getting tanned, as many Asians prefer having "fair skin". Some consumer segments will even use sun care products daily, and the huge demand has led overseas cosmetics brands to target the Chinese market aggressively. Indeed,  Thailand's Mistine promoting the claim that their products prevent the skin from getting tan became the most successful sun care brand in China.​
How did Mistine succeed in China?
Mistine, founded in Thailand in 1988, entered the Chinese market in 2016. Initially, the brand is popular among young people for products like the wings powder and strawberry color-changing lip balm. Today, Mistine established itself as a major player in the Chinese market for sun care products; and those products account for 60% of its sales.
In terms of product research and development, Mistine has done an in-depth study on the Chinese market needs. They understand Chinese consumers' demands for sunscreen products that are waterproof and sweatproof. Consequently, the company launched a collection of sunscreen products with "sunscreen power", "refreshing sense" and "anti-shedding" properties. In addition, because coral friendly sunscreen products have been a hot topic on environmental protection in recent years, Mistine also developed an environment-friendly formula, with sunscreen ingredients that won't cause coral bleaching.
Mistine's marketing  has always adhered to a "youth-oriented" strategy in China; and they stay focus on the GenZ consumers. Prior to International Women's Day this year (an important marketing event for cosmetic brands in China), Mistine announced the partnership with a popular male celebrity Cai Xukun to be its brand ambassador in China. This move attracted the attention of tens of millions of followers and resulted in a surge in product sales. Additionally, Mistine has launched a series of marketing campaigns targeted at young people, such as co-branding with Pop Mart, releasing humorous Thai-style ads, and launching online challenges with influencers.Their marketing campaigns have yielded significant results, with data showing that in 2022, GenZ customers accounted for 26% of Mistine's sun care product, a market share far exceeding the industry average.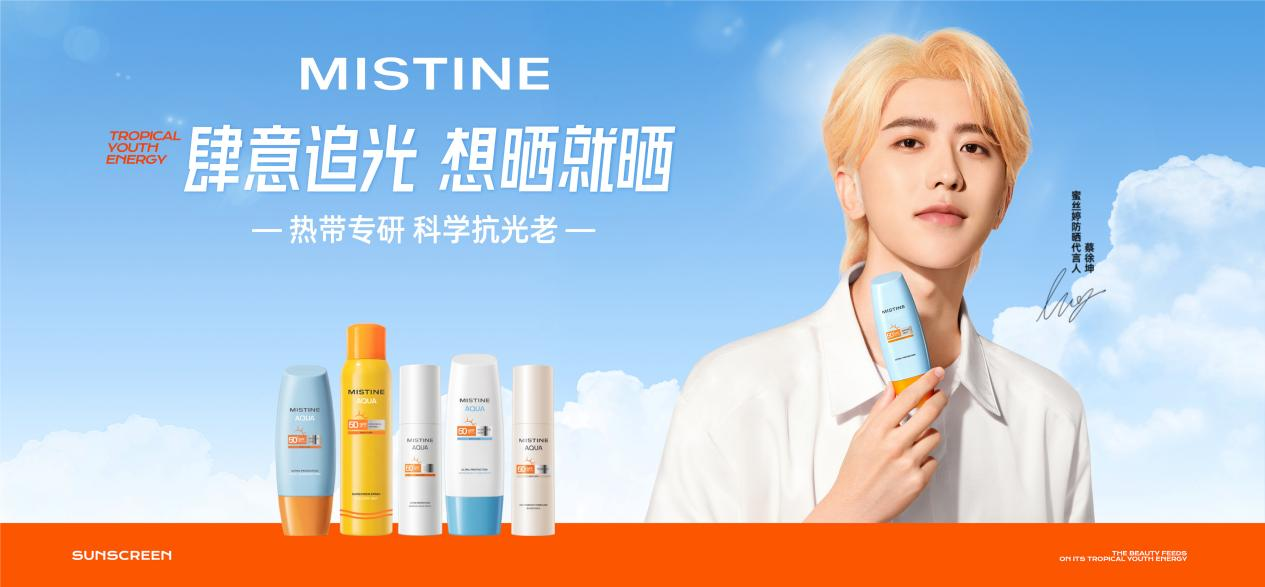 Mistine has established a comprehensive sales channel in China, selling its products across various platforms such as Tmall, JD, WeChat, and Tik Tok through cross-border e-commerce. Most cosmetics brands choose this model to export to China due to the advantages of fast customs clearance, low tax rates and high logistics efficiency. In China, content and marketing are inseparable, most consumers will search for products on social media platforms before making a purchase. Mistine's collaboration with multiple influencers and advertising on platforms such as Xiaohongshu and Tik Tok is a clear demonstration of their deep understanding of their consumers. Importantly, the brand actively uses live streaming on e-commerce platforms, which is a popular sales channel in China, for online sales. During this year's Women's Day promotion, in Li Jiaqi's live streaming room in Tmall, Mistine's "Little Yellow Hat" sunscreen sold more than 180,000 units overnight.
The Chinese market has a unique ecosystem that requires support from content marketing, advertising, e-commerce platforms, and channels to increase brand awareness and sales. Overseas companies looking to learn more about marketing and cross-border e-commerce in China, will need to work with a partner that has the right expertise and platform capabilities to orchestrate all the components within the cross-border e-commerce ecosystem.  MyMyPanda is a one stop service provider that will help brands sell direct to China consumers. Speak with our marketing experts to learn about the different strategies you can adopt to make your business successful in China.​