The China outdoor market is experiencing a surge in popularity after the pandemic as more people seek outdoor activities to stay healthy. The search volume for "outdoor" on TMALL has surged by 659% from 2021 to 2023, creating a huge opportunity for outdoor market using China cross-border e-commerce. Preferences for outdoor activities vary among different age groups, with the young Generation Z population favoring ice skating, ball games, and cycling. Meanwhile, the older millennials and  GenY prefer frisbee, rock climbing, hiking, and mountain climbing.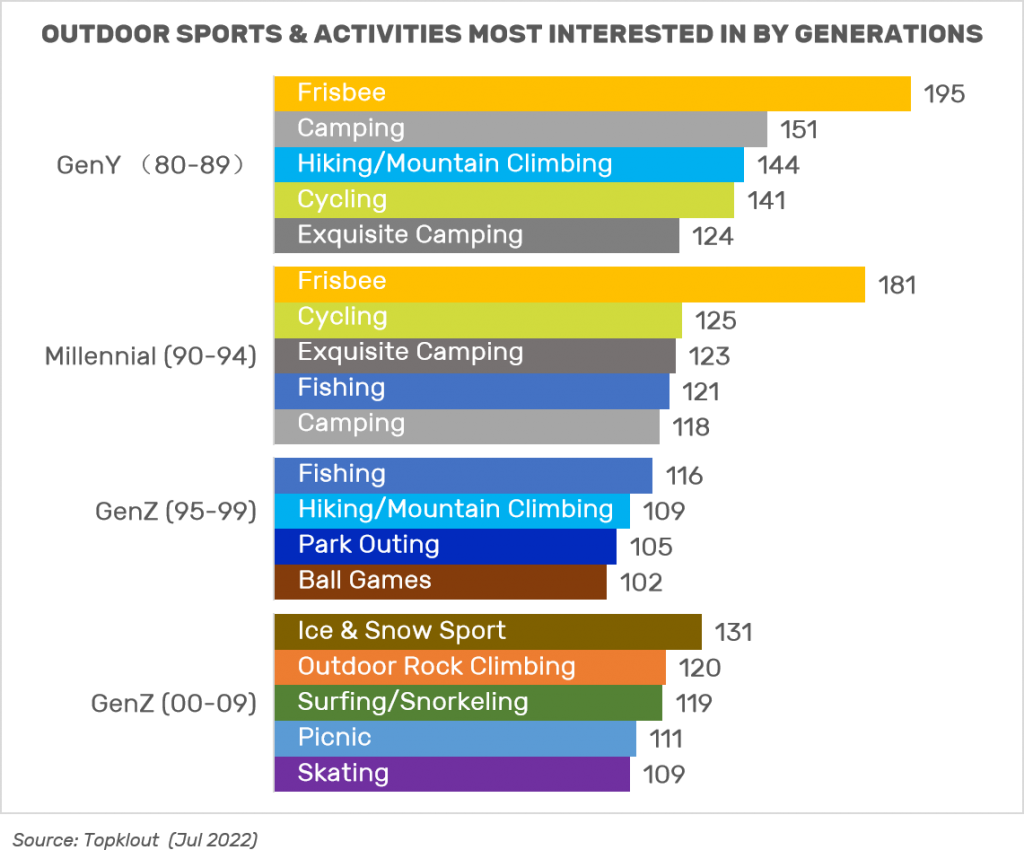 The China outdoor market in major cities has grown by 400%, and even smaller cities have experienced a growth rate of 220%. In fact, a search on Red (Xiaohongshu) will quickly show the overwhelming popularity of these outdoor activities.

To gain a better understanding of the China outdoor market, we can look at six popular categories that contributed over RMB 10 billion in a report published under the title "TMALL 2023 Latest Top 6 China Outdoor Markets Exceeding 10 Billion RMB." Each of the market captures the best-selling outdoor products and provide valuable insights for brands to build your own cross-border ecommerce strategies.
1. Outdoor Apparel
Chinese consumers' demand for outdoor apparel is showing strong growth. In the past years, sales of outdoor products such as hiking jackets, outdoor footwear, fishing gears, hats, sun protection clothing, and sports shoes have been selling well on ecommerce platforms.
Driven by the active lifestyle trend and spending long hours in outdoor activities, people place greater emphasis on the functionality of their clothing, seeking practicality and durability. As a result, there is a significant increase in demand for high-tech fabrics that offer features like waterproofing, wind-proofing, and quick-drying properties. While local brands like Camel and Kailas are competing with price attractiveness, overseas brands (ie The North Face, Arc'teryx) with their premium pricing are still in high demand due to their design, quality and strong branding in outdoor apparel market.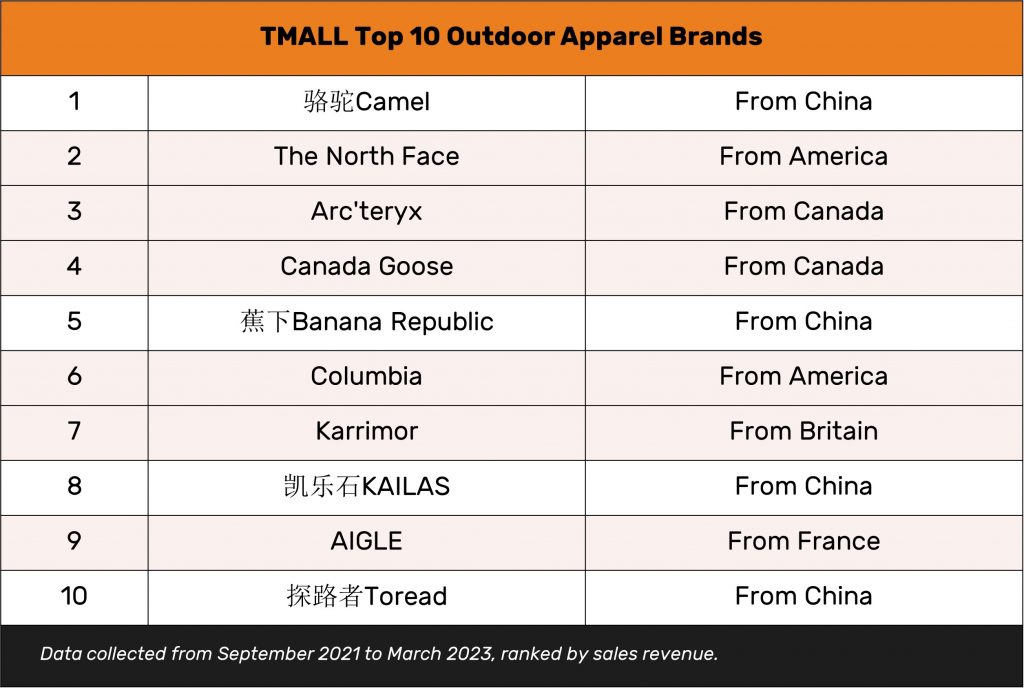 2. Camping
More than just a trendy Instgrammable opportunity outdoor, camping has become a popular choice for many people seeking a relaxed vacation experience in the great outdoors. As a result, many social commerce (like Little Red Book) and marketplaces (like TMALL) showcase a wide range of camping products. Importantly, the rise of key opinion leaders (KOL) marketing have given influencers new opportunity to shoot their videos and livestream from popular campsites around the country. This brings the brand and products to the outdoor environment for a more connected experience with consumers.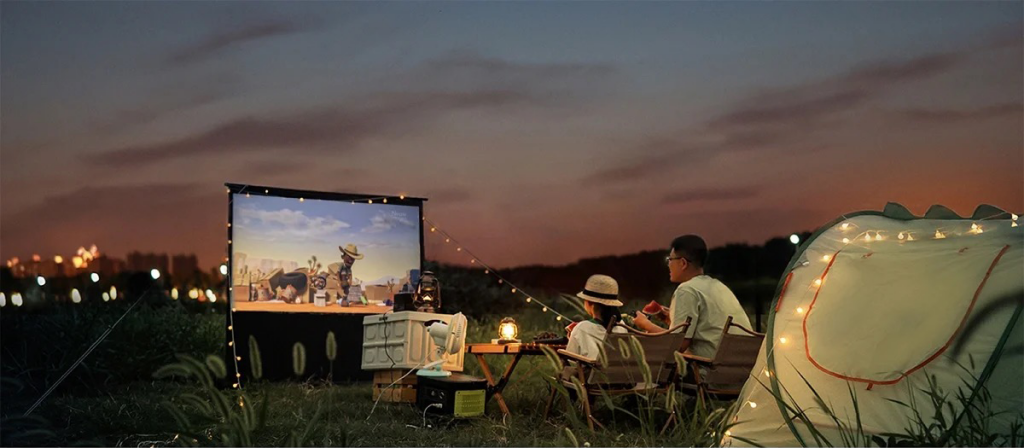 China consumers' willingness to purchase camping equipment continues to grow, with outdoor power sources and tents being the most popular choices. As more people join the camping bandwagon, outdoor cooking during camping trips also generated new sales for cookware products. Ultimately, brands need to seek out opportunities for product placements that can connect with consumers camping experience.

3. Motorcycle Riding
While one group is seeking a relaxing experience, another is looking for a bit of adrenalin and speed. Activities like cycling, jogging, skateboarding, and motorcycling have become new choices for urban outdoor enthusiasts. The surge in urban outdoor activities have contributed directly towards the sales of those products. In this wave of enthusiasm, motorcycling has taken the lead in generating sales for innovative products such as windshields, helmet equipped with headphones and motorcycle dashcams etc. for a greater riding experience.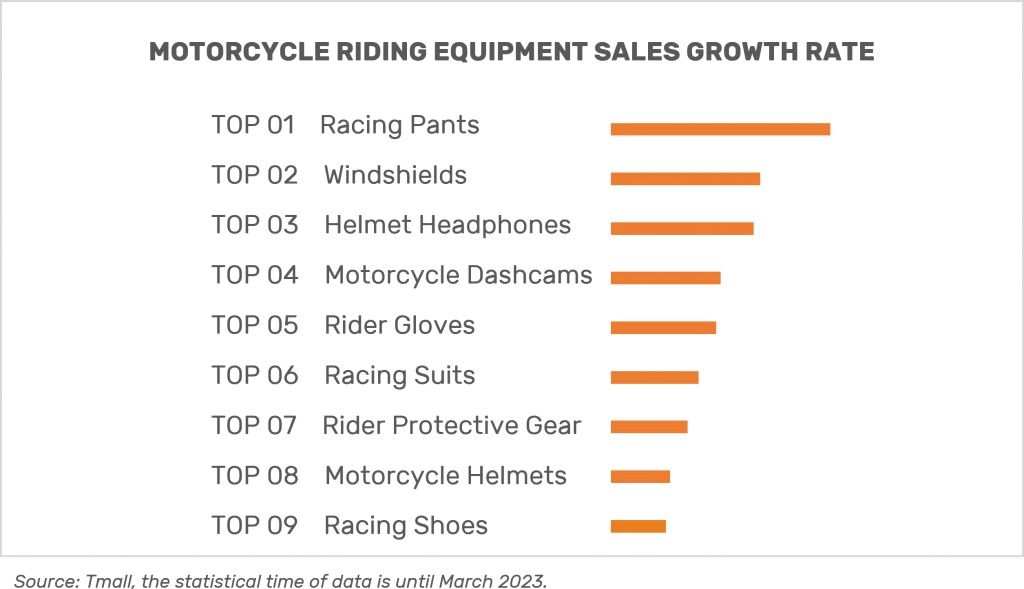 4. Fishing
For a very long time in China, fishing has a reputation of being a low-key, modest, and somewhat unfashionable recreational activity. Seemingly a popular hobby for retirees only, recently, it has become trendy among China's Gen Z and millennial population.
The sales for fishing rods, wading shoes, lures, and waterproof eyewear have grown significantly facing this new culture shift. It has also spawned a range of outdoor functional products, such as outdoor watches, compasses, and thermometers, which have become essential items for fishing enthusiasts.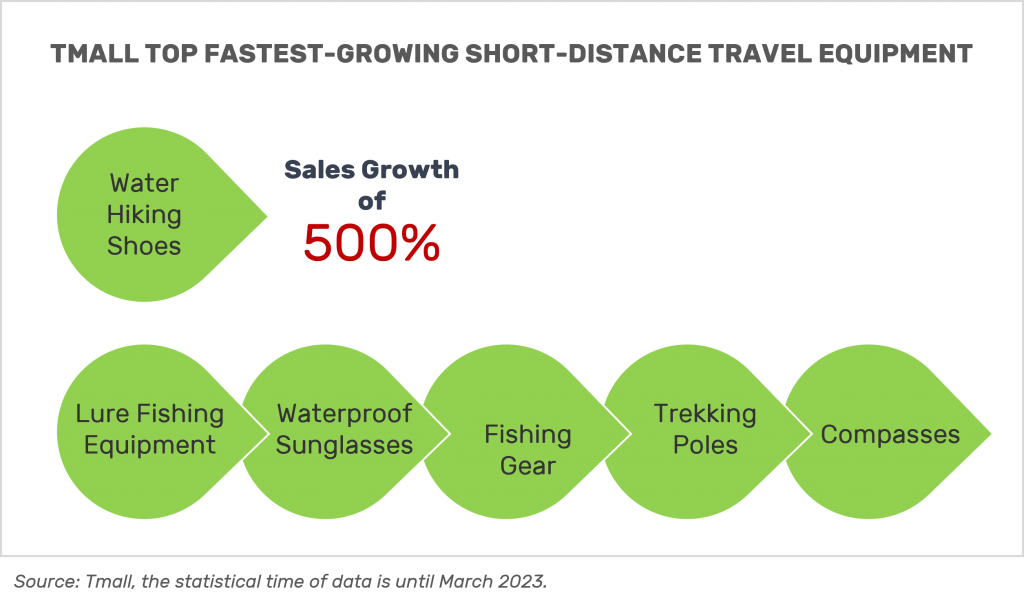 5. Emerging Sports
Emerging sports such as surfing, skiing, and diving are entering China. Indeed, skiing and other winter sports were largely unfamiliar to the Chinese public until recently, partly due to the high cost of equipment. Daily reports on the performance of Chinese athletes during the Beijing Winter Olympics have created huge awareness of the sports.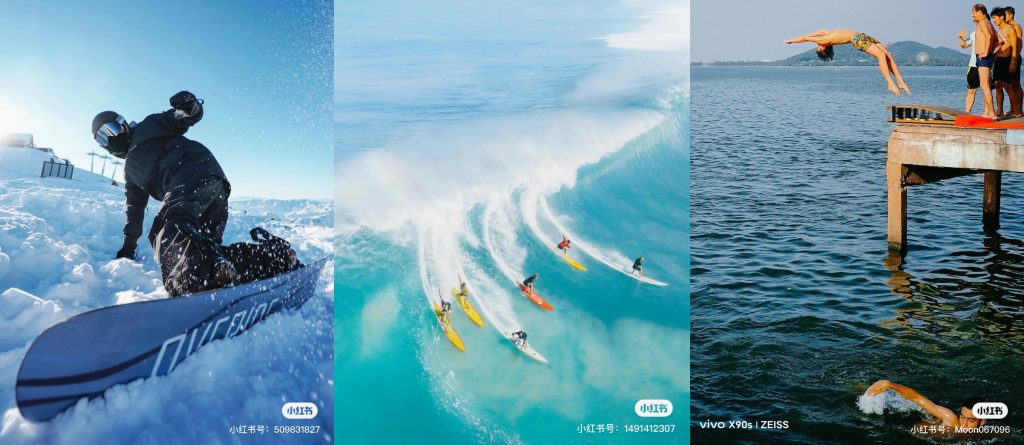 Research institute China Tourism Academy reported that 170 million people participated in sports like skiing and skating in the 2016-17 winter season, and related travel sales totaled RMB270 billion (US$38.8 billion). These figures soared to 344 million people and RMB474 billion for 2021-22, with further increases expected by the 2024-25 season.
Another emerging sport is surfing that has been rising trend in China over the last two years due to the pandemic. As outdoor activities are preferred (amid Covid restrictions), many people head to the beach and pick up surfing. Importantly, young people are also becoming less work-oriented and looking for a better work-life-balance in their lifestyle.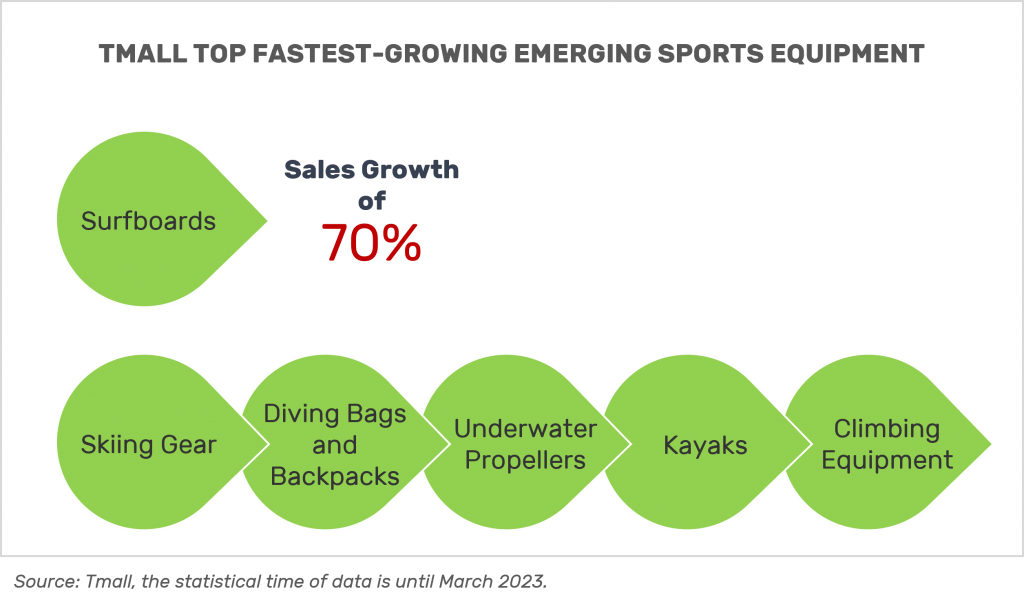 6. Children's Outdoor Activities
Parent-child relationships and children's health are priorities in the modern Chinese families. As a result, people frequently visit parks, gardens and go for nature walks as a family unit.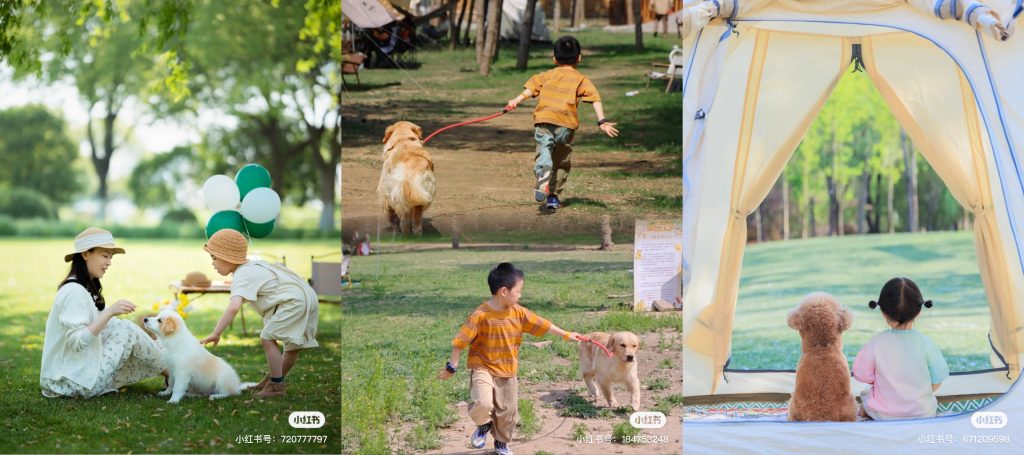 These leisure activities often include bringing along their pets, strollers, toys to add a little fun for the walk. Hence, the growing popularity of roller skating among children, skateboards and scooters have become indispensable equipment for kids.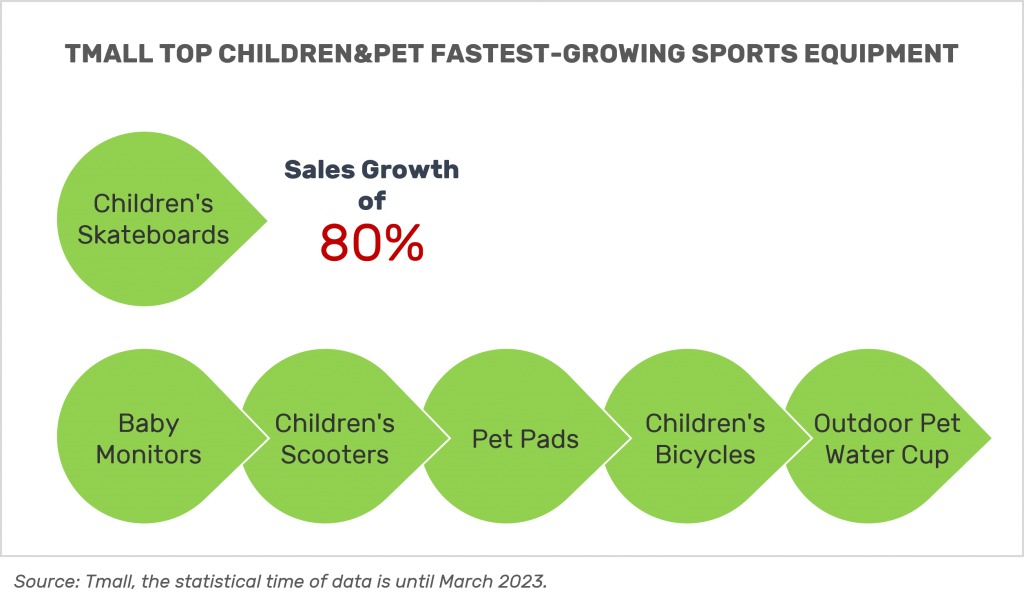 According to the data from Mafengwo, Millennials and Gen Z led the trend of outdoor sports, accounting for 85.6% of the total outdoor sports lovers in 2022. After Covid pandemic, the emphasis on a healthy lifestyle has made "walking with children outdoors" a new trend among young Millennials parents. What's more, Gen Z culture shift towards the love for outdoor sports have even become a lifestyle, symbolizing their youth and vitality. The rapid development of the Chinese economy and consumer preference for better quality overseas' products provide a growth opportunity for brands to sell directly to consumers through China cross-border e-commerce.
Related Article
2023 Top Marketing Trends in China for Sun Care Products
To learn more about China cross-border e-commerce market through the DTC model, Click here to consult our CBEC experts for strategic guidance!