In recent years, Direct-To-Consumer (DTC) selling model adopted by companies such as Warby Parker, BarkBox, Allbirds and Casper have achieved great success in the market. Through direct selling, brands can reach China consumers with their ecommerce stores without setting up physical retail across China cities. Importantly, online commerce strategy provides data insights that allow brands to adapt their marketing campaigns to the needs of consumers. Hence, DTC has become a booming trend in China's commercial business.
Advantages of DTC E-Commerce Model
1. Break geographical restrictions and bring more profit growth
The most obvious advantage of using DTC model is the growth of profits. Since brands do not have to sell through traditional brick-and-mortar channel, they can maximize profits by reducing operational costs. On the other hand, with the rapid adoption by consumers to buy from e-commerce stores and maturity of cross-border market solutions, DTC model breaks the physical geographical restrictions and allow consumers to buy from any online stores around the world.
2. Reduce reliance on market place and build direct brand relationship
Ecommerce giants like Amazon and Alibaba have started market place to help brands sell through their platforms. Over the years, they have built an ecosystem with total dominance of the entire value chain. Brands using those platforms will need to rely on heavy investments – advertising, revenue share, controlled partners, unhealthy competition and strict regulations – to run their ecommerce business. As a result, profit margin is highly eroded and the old ecommerce market badly needs a revamp. The introduction of DTC model allows brands to develop their own marketing strategies, leveraging multiple social media platforms to attract and retain customers. Importantly, brands regain the relationship with their customers and create exceptional brand experience to delight loyal members. Meanwhile, cost of acquisition has reduced and this allows brands to pass on the savings to their customers. Consumers can buy genuine products directly from brands at competitive prices and preferential tax rate through China cross-border e-commerce. Consequently, brands are able to attract large number of consumers to establish stronger brand presence in China.
3. Better understanding for consumer needs to improve customer loyalty
As ecommerce platforms develop innovative solutions to help brands improve on sales conversion, the use of DTC model also means more data insights for brands to design effective marketing strategies. Ecommerce website provides comprehensive customer profile data, browsing behaviours, predictive trends and more. Marketers can now use those insights to promote the right products, to the right audience; and at the right time. Add to that with a strong loyalty program, brands will be able to create long term customer value for a sustainable growth. According to Bain & Company, it only takes a 5% increase in loyal customers for a company to see 25% more profits.
The Future Of DTC E-commerce in China Holds Great Potential
Compared with the United States, the development of China's DTC e-commerce model is still at an early stage. At present, DTC brands mainly rely on e-commerce platforms and social media to reach consumers. According to Statista forecast (Statista 2021), China's DTC market size will reach 122 billion yuan in 2024. At present, giant enterprises with high market penetration in China are companies such as Unilever and P&G selling fast moving consume goods. However, many retail brands have yet to take full advantage of direct selling model. The impact of the COVID-19 have created high consumers demand as many Chinese are unable to travel abroad for holiday and shopping. As a result, buying from overseas e-commerce become a substitute for their shopping needs and this trend is expected to continue into the future.
One of the key consumer segment under China's DTC e-commerce model is Generation Z who were borned in the mid-1990s. In their 20s and 30s today, this segment consists of educated individuals, has good career and spending power. they are digitally savvy and tend to rely on social media platforms for their buying decision. Gen Z are different from their parents as they believe in good work-life balance. When it comes to online shopping, they look for value, product performance and brand. According to Statista, the main channel for Gen Z to purchase beauty and skincare products is e-commerce platform (62.3%). Therefore, compared to traditional retail channels, DTC e-commerce model can serve this young consumers better.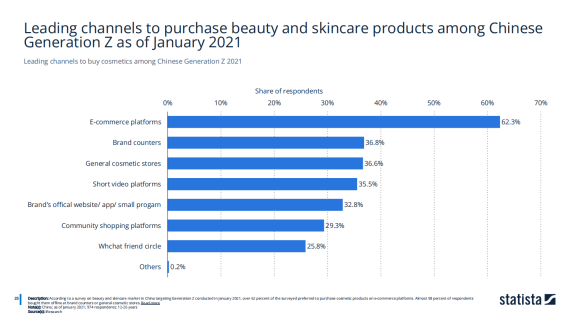 Existing common sales channels for DTC E-commerce in China are Tmall and WeChat mini-program. Both platforms have impressive number of users and sales. Specifically, Tmall impose strict regulations on brands as they often require brands to run heavy discounts and promotions, otherwise they will not be able to generate traffic for their products. Brands that want to open a store on WeChat will need to invest in developing a mini-program. In summary, those two channels like many other marketplace platforms have a much higher upfront cost of investment compared to DTC with cross-border e-commerce.
How to Reach Chinese Consumers With DTC Marketing?
Many brands lack confidence in entering the Chinese market due to complex and strict requirements in China cross-border customs clearance, payment and logistics. However, launching DTC e-commerce in China doesn't have to be a challenge. MyMyPanda CBEC platform offers a one-stop solution for brands to easily sell direct to Chinese consumers with your own online store. No physical retail stores needed, and no need to build a local marketing team in China.
MyMyPanda CBEC platform is licensed by Chinese government to connect directly with Chinese customs to for customs clearance and tax. We will submit essential documents electronically to the customs when consumers place orders in overseas ecommerce websites and ensure goods are properly tax and in compliance with regulations At the same time, we integrate Chinese localized payment (Alipay & Wechat Pay) and logistics methods, so that Chinese consumers can have a better shopping experience and fast delivery services (less than two days) in China.