According to Chinese customs statistics, in 2022 China Double 11 festival, Ningbo Customs alone declared more than 10 million cross-border imports, with a value of $416 million.
China Double 11 Festival Created Strong Market Vitality
Every year around November 11 period, China consumers and merchants around the world come together to participate in a unique online shopping carnival. This innovative retail strategy was created by Chinese eCommerce giant Alibaba in 2009.  Today, this festival is a global phenomenon smashing record sales year after year.
This year's  Double 11 festival has witnessed yet another record sales. From major e-commerce platforms like TMALL, JD.COM, PINGDUODUO etc., to live streaming commerce, community group-buying and new retail have all contributed to the total sales that exceeded $155 billion.
China Live Streaming Commerce Set A New Retail Trend
In China Double 11 festival this year, the sales of China live streaming commerce platforms such as Tik Tok, Diantao & Kwai totaled $25.2 billion. During the pre-sale period, at one point there were 13 million live streaming rooms emerged on Taobao alone.
According to Syntun data, the top 3 anchors of Tik Tok, DianTao and Kwai live streaming platforms brought nearly $6.6 billion in goods, with more than 10 million views per session. Brands hired trained promoters to show how products are used or tell viewers all the product benefits to attract impulse buying in live streaming channels. Consumers watching the live streaming commerce can simply click on the sales link to grab special deals and offers.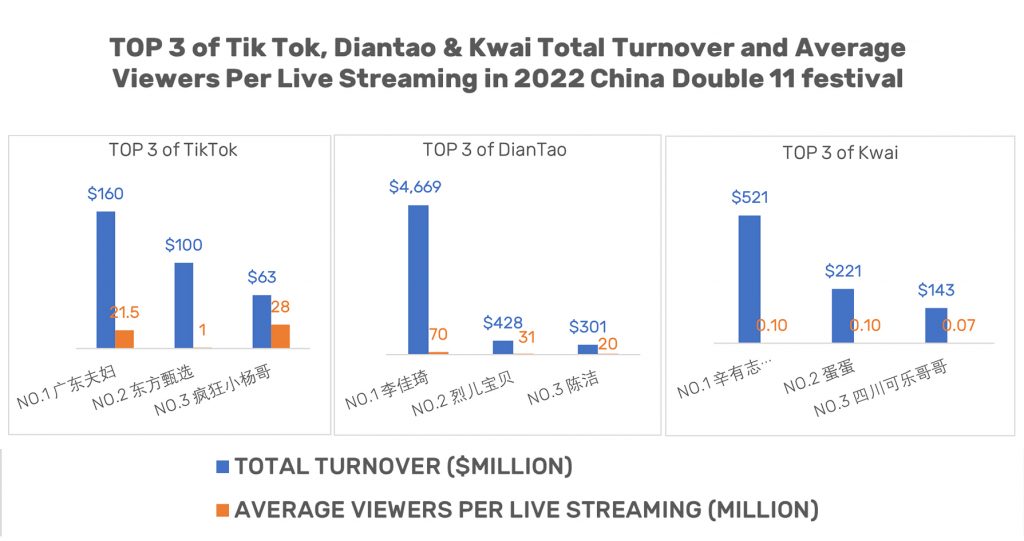 Focus on E-Commerce Model of Social Medias + Live Streaming
China Double 11 festival has become an annual event for China's e-commerce industry and is gradually influencing the global e-commerce industry. More and more overseas merchants are beginning to pay attention to China e-commerce model.
Chinese companies are very detailed in marketing, they pay attention to consumers age, gender, hobbies, region, income, and other factors, carry out different marketing behaviors according to consumers' own needs. They have established their own brand accounts on social media such as RED, Tik Tok, Kwai, and daily update brand and product information to attract consumers. In addition, they look for KOLs/KOCs on various social media to help their brand or product gain more visibility. Most merchants will choose to create the use and consumption scenarios of goods through the live broadcast room, which is communicated to consumers in a simple and clear way, reducing their understanding time and decision-making time. Reduce their loss in the process of using the APP and improve the efficiency of marketing conversion.
Want to have your first free consultation on how to do marketing in China? Contact us.
Data from: Chinese customs & AskCI.com & Syntun.com