In today's rapidly changing landscape of commerce, a rising wave of Direct-to-Consumer (DTC) brands is revolutionizing traditional retail norms. This paradigm shift isn't confined to any specific sector—it has also found fertile ground in the realm of home furnishing.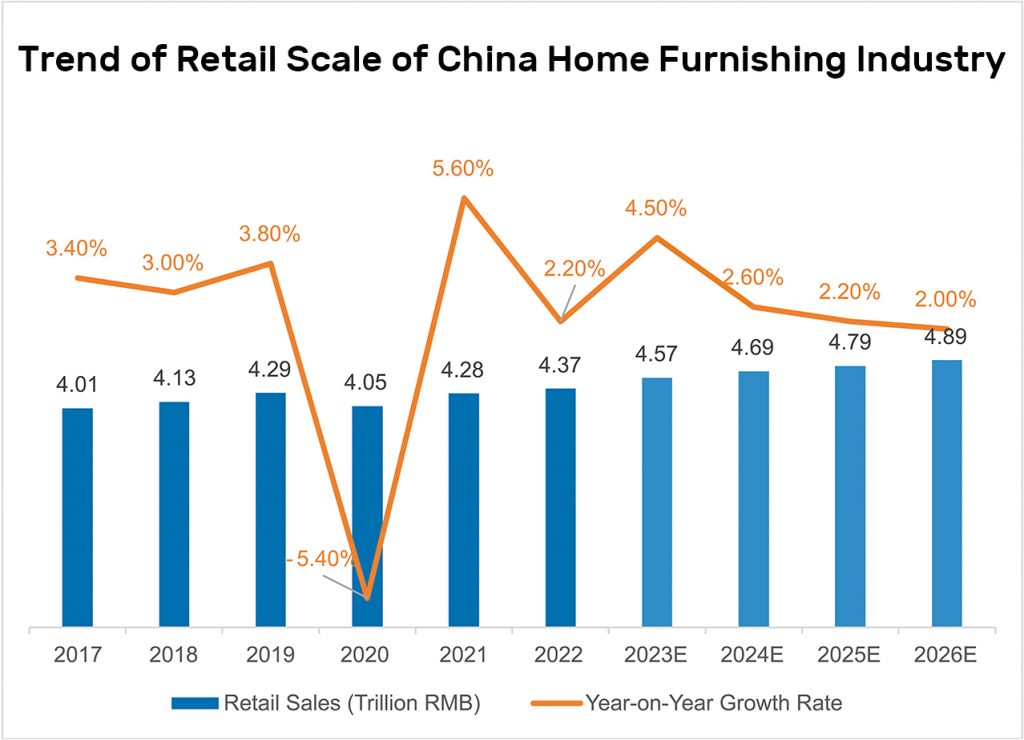 Source: iyiou.com
In 2022, China home furnishing sector achieved a remarkable retail scale of 4.37 trillion RMB, as highlighted by EO Intelligence. With the exception of the pandemic-ridden year 2020, this industry has consistently been on an upward trajectory. Projections suggest that this year is poised to see another 4.5% surge.
The driving force behind this growth is the swift pace of urbanization, ushering in a new generation of city dwellers who demand enhanced living experiences in response to evolving urban dynamics.
China's policy directives have left an indelible mark on both the real estate and home furnishing sectors. The "Housing Should Be for Living, Not for Speculation" policy urges homeowners to invest in improved living spaces. Simultaneously, the "Dual-Track Approach for Housing Rentals and Sales" policy stimulates the rental market's expansion. With the implementation of the "Three-Child Policy," households expand further, propelling the demand for properties and home upgrades.
Alongside these trends, a flourishing middle-income demographic in China is fueling the demand for personalized, high-quality home products. The home retail sector, therefore, is undergoing a transformation that prioritizes attributes like quality, comfort and aesthetics.
Today, we bring you a curated selection of avant-garde overseas home furnishing brands. This selection serves to equip marketing professionals within the industry with the latest and most invaluable brand insights and inspiration, marking a new chapter in the trajectory of possibilities.
NITORI宜得利家居
NITORI, Japan's largest indigenous home furnishing retail chain, ventured into the Chinese market in 2014. However, it took a departure from convention by choosing a less conventional route. Instead of establishing its inaugural store in a first-tier city like Beijing or Shanghai, NITORI set its first foothold in Wuhan – a city of smaller economic stature. It wasn't until 2017 that NITORI expanded its reach to Shanghai. This unique strategy strategically distance the brand from the intense competition in first-tier cities and strategically circumvented direct rivalry with giants like IKEA and MUJI.

Employing a Direct-to-Consumer sales approach, NITORI carved a niche for itself. By erecting physical outlets across China and vigorously embracing online channels (including Taobao, JD.com and others), the brand effectively circumvented intermediaries. Notably, NITORI's mastery over its supply chain facilitated cost efficiency, enabling the brand to exercise absolute pricing authority. This positioning allowed NITORI to democratize affordability and value, appealing to a wide spectrum of consumers.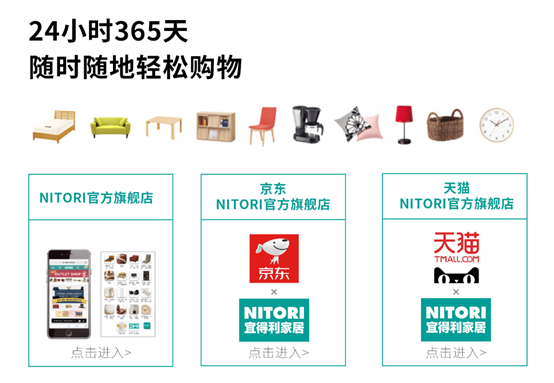 Ferm Living
Hailing from Denmark, Ferm Living is a design brand that specializes in home decor and furnishings. In the Chinese market, Ferm Living places a strong emphasis on the concept of "home aesthetics," seamlessly blending design, art and lifestyle to forge an emotional connection with Chinese consumers.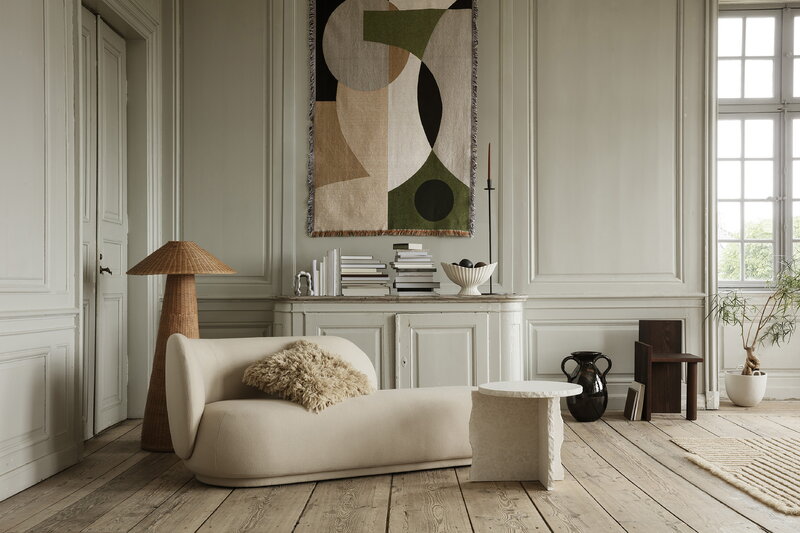 Leveraging online social media platforms like Weibo, WeChat, RED and Douyin, Ferm Living shares content centered around interior decoration, home styling and spatial arrangement. Through captivating images and short videos, the brand showcases how its products harmoniously integrate with modern life aesthetics, offering inspiration and practical home decor insights to consumers.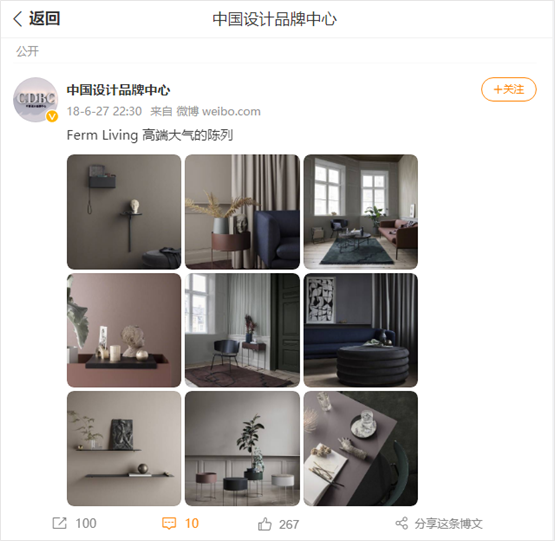 Ferm Living has exhibition halls in first-tier cities such as Shanghai and Chengdu in China. Through carefully curated displays and layouts, the brand offers an immersive home experience, aiding consumers in better understanding its design philosophy and showcasing the essence of Ferm Living's home aesthetics.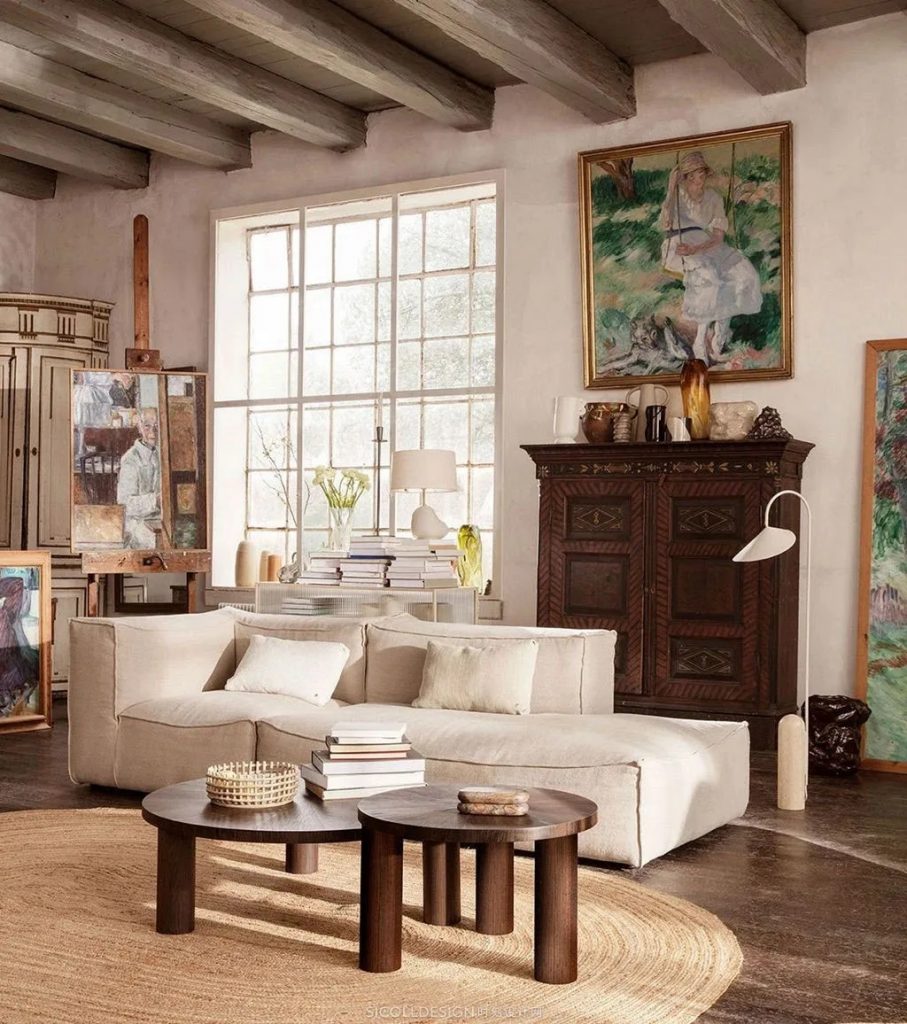 Moreover, Ferm Living organizes an array of offline brand events in China, including home exhibitions, design lectures and collaborations with local artists. Collaborations with local artists have garnered significant attention from fans and design enthusiasts. Through these partnerships, Ferm Living underscores the fusion of home design and art in the Chinese market, further enhancing its influence in the realm of home aesthetics.
Made.com
Founded in 2010 in the United Kingdom, the home furnishing brand Made.com once enjoyed a period of glory, achieving a remarkable sales figure of £315 million in 2020. Despite facing challenges due to mismanagement after going public, the brand's past success still offers valuable lessons for us to learn from.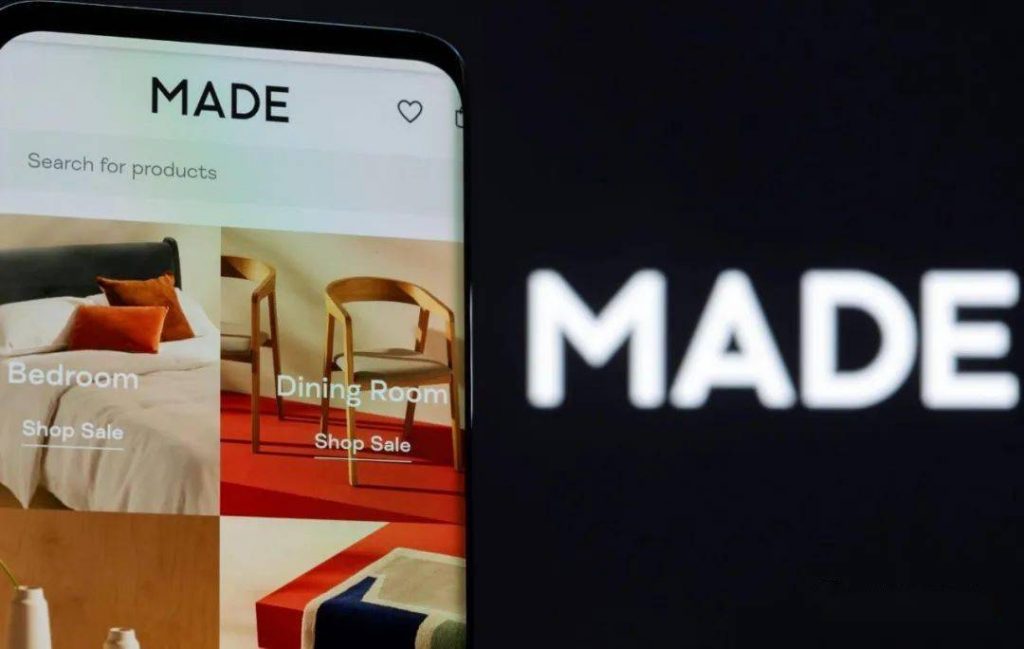 One of the co-founders of Made.com, Li Ning, was taken aback when he discovered that a sofa produced in China for less than £400 was priced at a staggering £3,000 in Europe. His further investigation revealed that high-end furniture manufactured in Foshan, China, had to pass through at least seven intermediaries before reaching European showrooms. Inspired by this revelation, Li Ning and other co-founders established Made.com, introducing designers and adopting the Direct-To-Consumer model.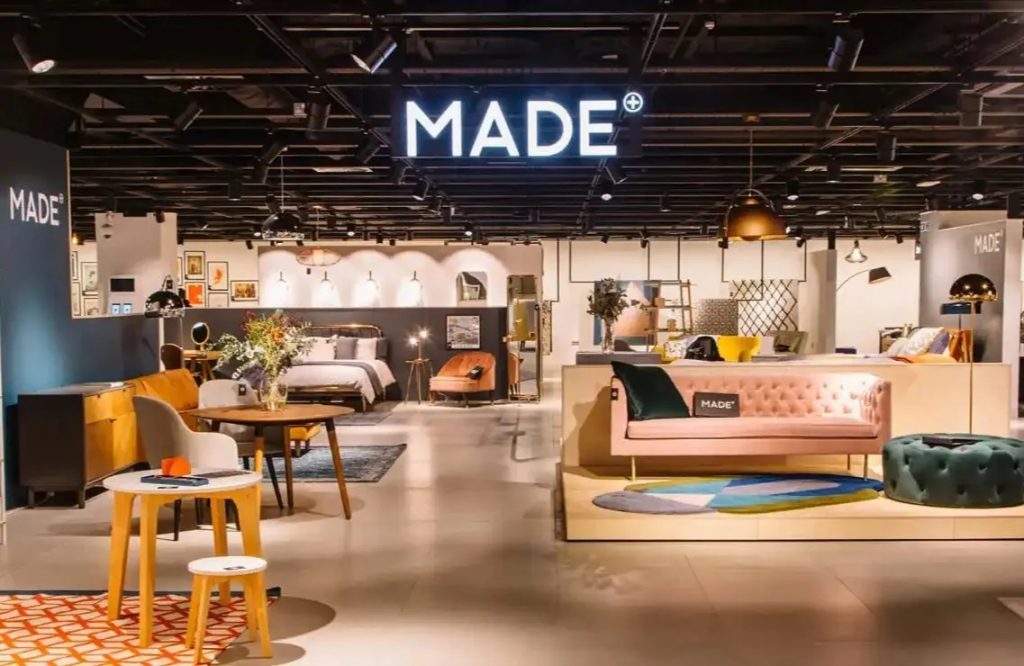 The brand's business approach completely revolutionized the traditional furniture industry model. From design and manufacturing to sales, the entire process takes place on Made.com's virtual platform, significantly reducing intermediaries and allowing cost-effective home goods to reach consumers directly. This innovative approach enables Made.com to offer products 75% cheaper than competitors, winning the favor of young consumers and making it their preferred choice for furniture purchases. Despite current challenges, Made.com's pioneering business model previously led to remarkable success in the home furnishing market.
Maison Dada
Originating from France, Maison Dada is a designer brand that brings together a diverse collection of furniture, lighting, rugs and home decor items, renowned for its whimsical and vibrant fusion of creative styles and bold colors.
In terms of marketing, Maison Dada maximizes the potential of social media platforms, centering captivating content around its unique design philosophy and products. Particularly on Xiaohongshu (RED), the brand collaborates with Key Opinion Leaders (KOLs) in the home living niche to release posts that showcase its products and brand aesthetics, swiftly garnering a significant following.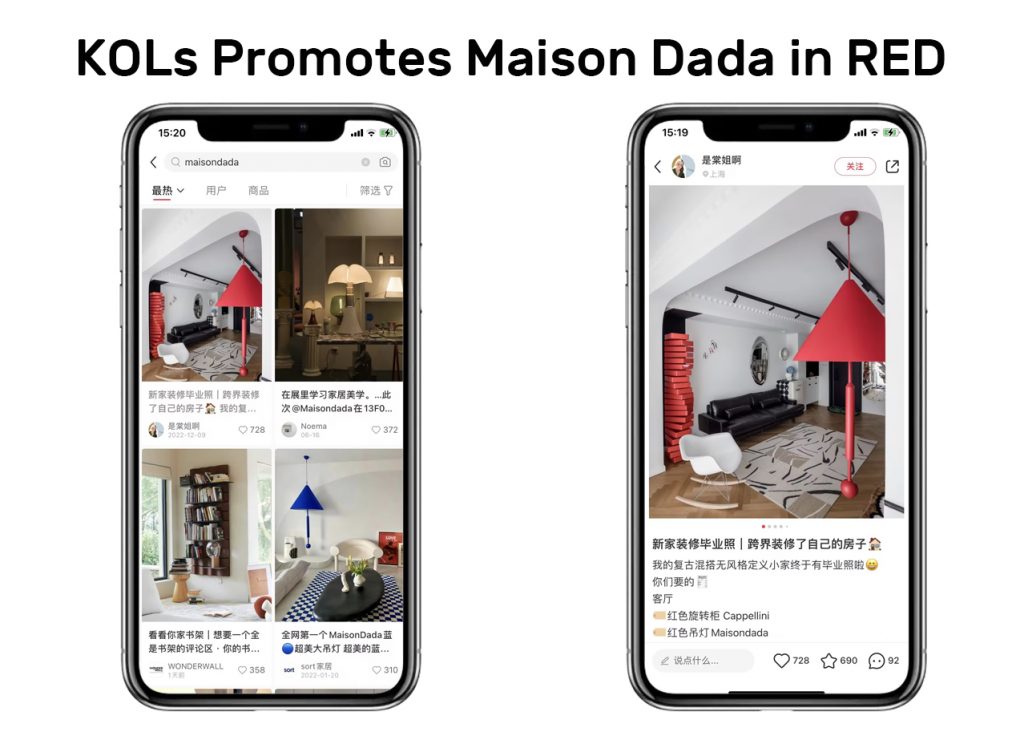 When it comes to shopping experience, Maison Dada employs the Direct-To-Consumer model, directly connecting shopping to consumers. In the Chinese market, aside from purchasing through dealerships and offline showrooms, consumers can easily select and purchase Maison Dada's products through the WeChat Mini Program (MP) store.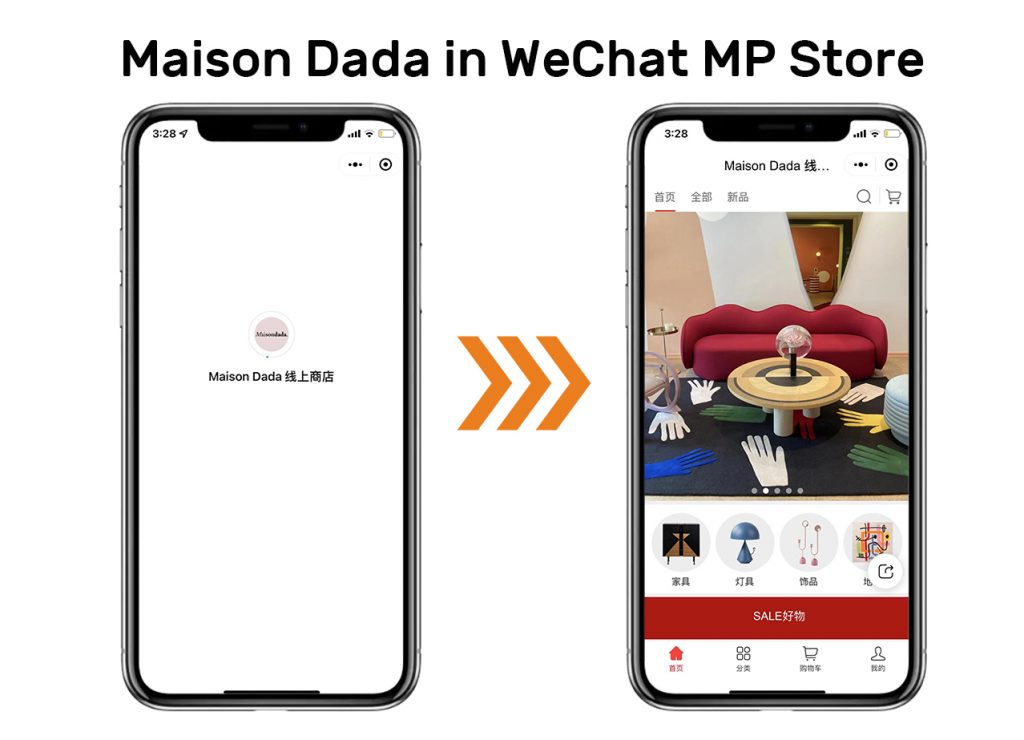 This WeChat MP store offers consumers a convenient shopping avenue, enabling them to directly browse and purchase the brand's exquisite items. Simultaneously, the brand ingeniously harnesses WeChat's interactive features to provide personalized recommendations and after-sales service to consumers. Following visits to physical showrooms or interactions with dealers, consumers can seamlessly make direct purchases on WeChat, affording them ample time to make informed buying decisions.
In a swiftly changing business landscape, the fusion of China cross-border e-commerce and home furnishing brands is igniting innovation and opportunities. Through emerging DTC models and wide social media reach; successful brands are connecting closely with homeowners to grow their business. With carefully crafted propositions and different flavours of OMO (online-merge-offline) strategies, they have created a whole new level of brand experience. Adaptability and innovation are key to transform traditional model and shape the future of home furnishing business. This exciting trend will continue to drive remarkable home experiences.
To learn how to enter the Chinese cross-border e-commerce market, Click here to consult our CBEC experts for strategic guidance!
Related Article
China CBEC | Meets China Outdoor Market Trends
China CBEC | Meet the Booming Maternal and Infant Market
China CBEC | Meet Italian Brands FILA Triumph
China CBEC | Meet French Fashion Brands
China CBEC | Meet 2023 Top Sun Care Products Marketing Trends
China CBEC | Meet Top German Brands