The global perfume market has reached a scale of over ¥100 RMB billion, yet China perfume consumption market accounts for only 2.5% of the global market. In 2019, the global perfume consumption market reached a staggering ¥390.6 RMB billion, with China market share being only 2.5%. By 2020, the perfume market in China had exceeded ¥1,257 RMB 100 million. The future prospects of the perfume market in China are highly promising.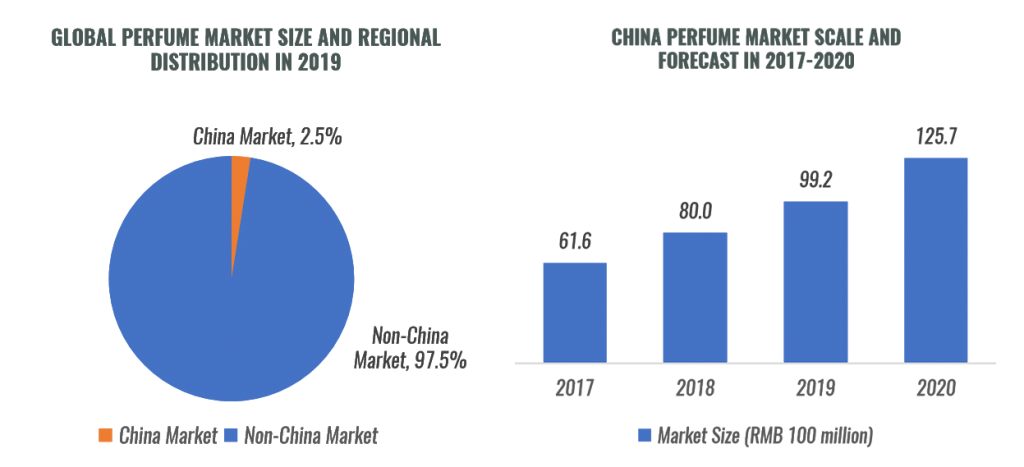 Source: Iresearch.cn, China Perfume Market Report 2020
During the pandemic, the widespread use of masks had a certain impact on the cosmetics market. However, perfumes, with their unique ability to enhance one's personal fragrance, instill confidence in their growth prospects. According to an iResearch report, over half of Chinese consumers use perfume daily and more than 70% choose specific perfume products because they emit fragrances they love or find pleasing. They have a preference for various scent types, including floral, woody, fruity and citrus fragrances.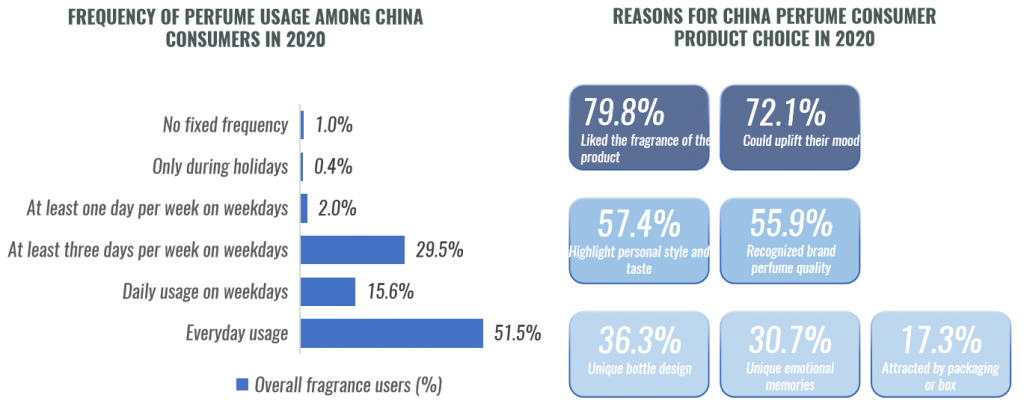 Source: Iresearch.cn, China Perfume Market Report 2020
Chinese consumers use perfume in various scenarios and have diverse preferences, including for commuting, gatherings and different activities. Especially during weekend leisure activities, there is a high demand for perfumes. This market's potential is attracting an increasing number of international brands actively seeking products and market positioning that cater to Chinese consumers' tastes, resulting in significant achievements.
However, in addition to fragrance giants like Dior, Chanel and Bulgari, many niche brands have also made a name for themselves in this highly competitive market. Whether through brick-and-mortar stores or the realm of cross-border e-commerce, these brands have successfully entered the China market. Their secret to success lies in their savvy mastery of essential factors. Let's explore some cases together to draw inspiration.
By Kilian
In 2021, By Kilian achieved a revenue of $13.1 million in the Chinese market, representing a year-on-year growth of 40.9%, with an annual profit of $5.1 million. Currently, By Kilian is available offline in major cities like Beijing and Shanghai in China, while online sales primarily occur through cross-border e-commerce platforms like Tmall and the WeChat MP Store.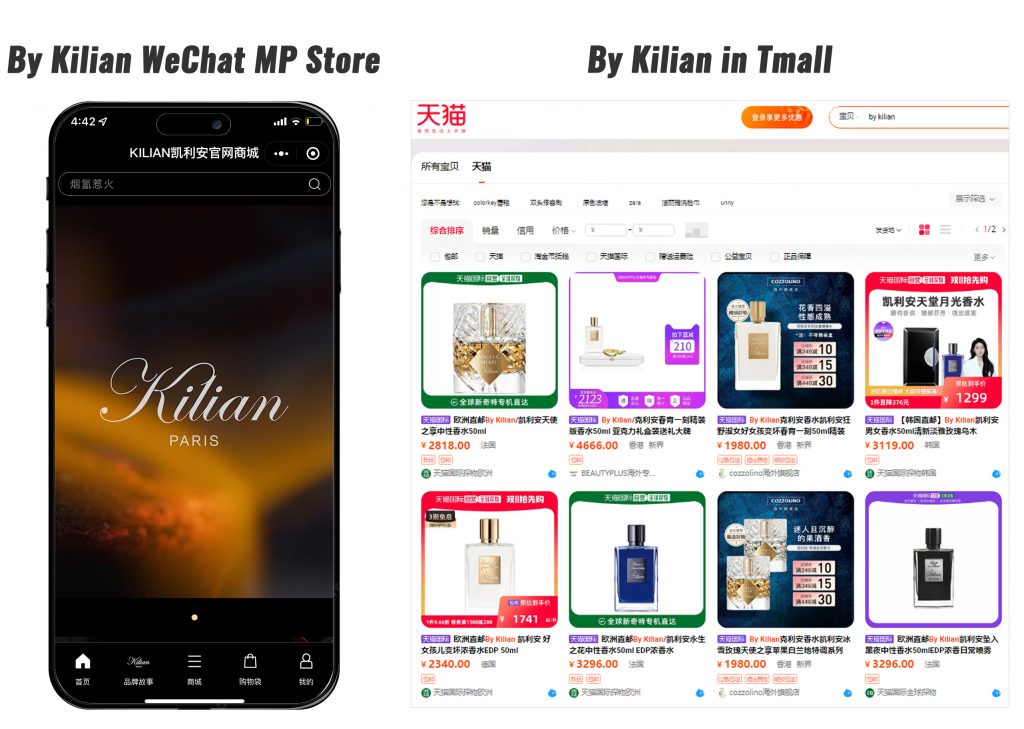 Source: By Kilian China Sales Channels Screenshot
By Kilian's five distinct perfume series perfectly complement the brand's unique "scent personas," conveying sensations of freshness, danger, allure, sensuality, and addiction. This unique marketing strategy leaves a lasting impression on consumers, establishing a solid fan base. The high-quality packaging design, such as the "Double Snake" and "Skull," seamlessly aligns with the brand's image, attracting numerous consumers who are drawn to its aesthetic appeal and brand values.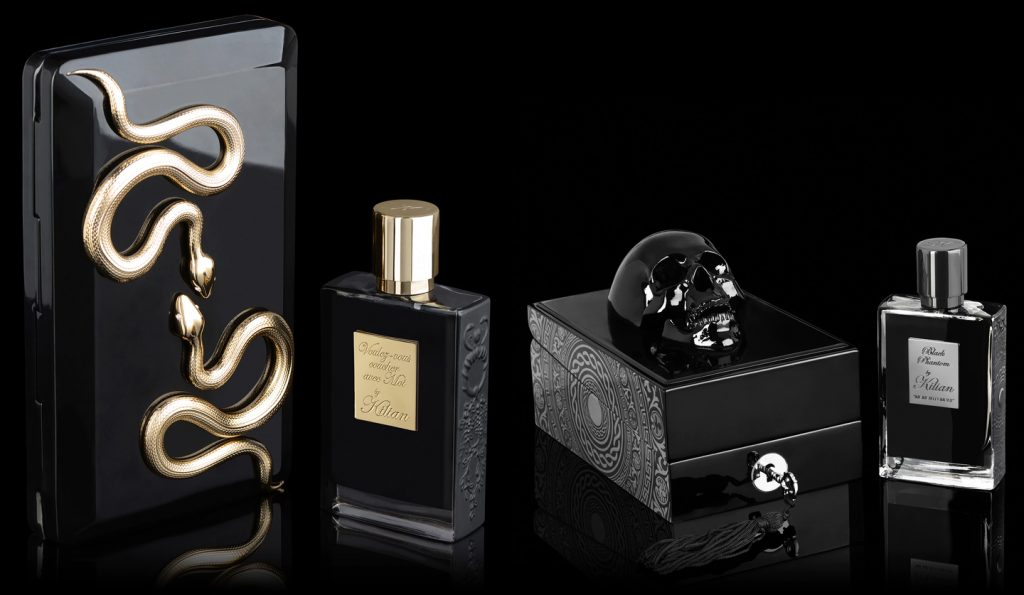 Source: By Kilian packages of "Double Snake" and "Skull"
By Kilian has secured a distinct position in the luxury niche perfume market with premium pricing, around ¥1500RMB for a 50ml bottle. Additionally, they employ bundling pricing strategies, combining suitable packaging to offer fragrances at different levels. They also cater to a wide range of consumer preferences by introducing travel-sized and portable versions.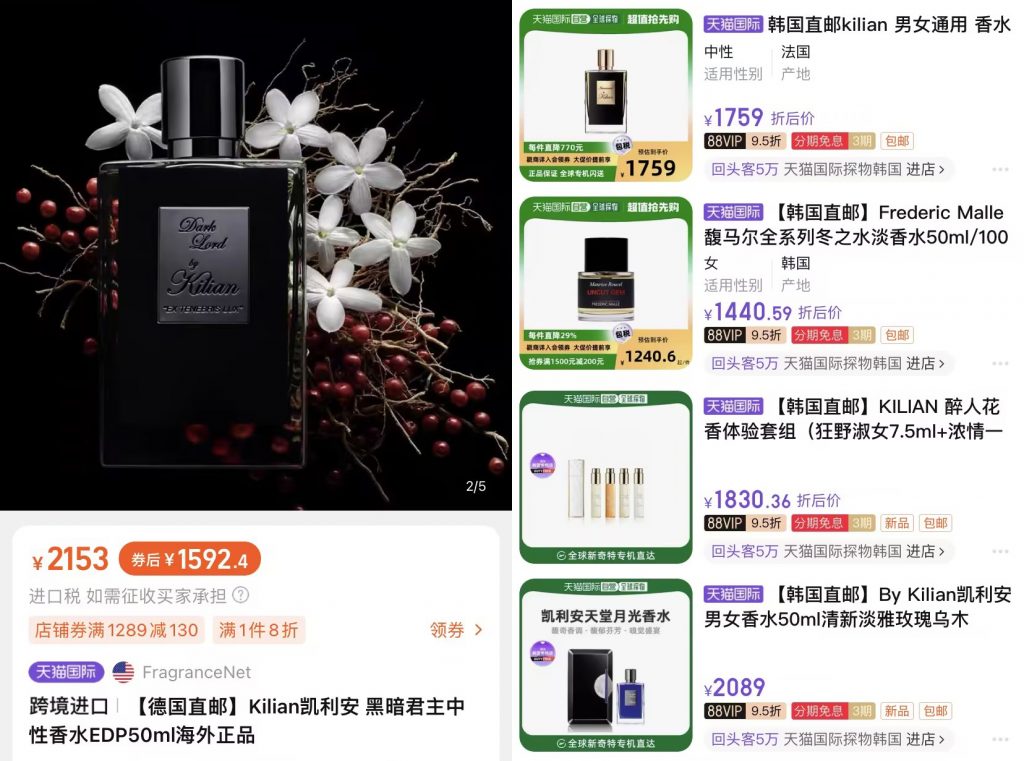 Source: By Kilian Tmall Price Screenshot
In terms of marketing strategy, By Kilian actively leverages social media to tell the unique stories behind each fragrance. Simultaneously, their collaboration with celebrity GuanXiaotong not only enhances the brand's image but also extends its visibility. Furthermore, the brand offers customization services and releases limited edition perfumes, creating purchase impulses that attract consumers with a penchant for taste and uniqueness.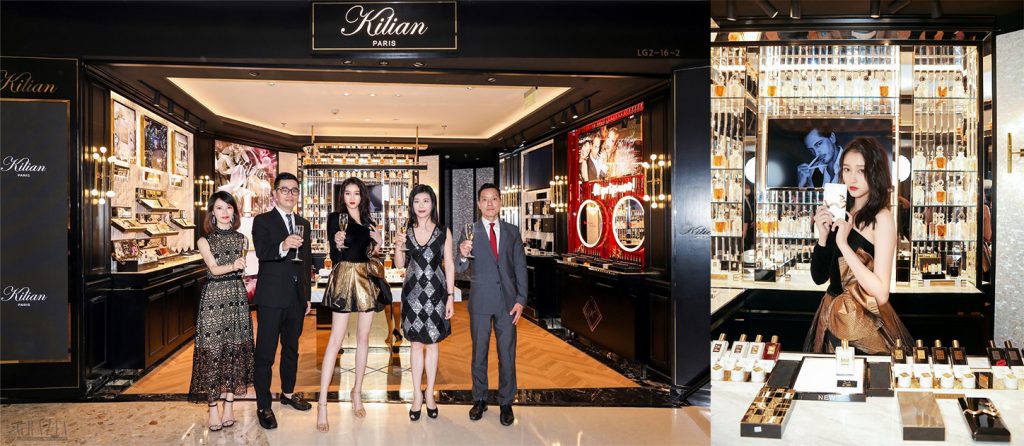 Source: By Kilian Weibo
Le Labo
Le Labo, founded in 2006, is a fragrance brand that rakes in millions of dollars in annual profits. It challenges the monopoly held by commercial giants and is dedicated to creating "soulful scents." Co-founders Eddie and Fabrice, disenchanted by the industrial and mechanized nature of conventional commercial fragrances, made the decision to create their own fragrance brand.

In its early days, Le Labo primarily catered to Chinese consumers through cross-border e-commerce and purchasing agents. However, over time, the brand has made significant strides in the Chinese market. Presently, Chinese consumers not only have the option to purchase Le Labo products on the Tmall e-commerce platform but can also access the Le Labo official website directly through WeChat Mini Program for a direct-to-consumer (DTC) experience. What's particularly exciting is that in 2023, Le Labo opened its first physical store in Shanghai, further expanding its sales channels.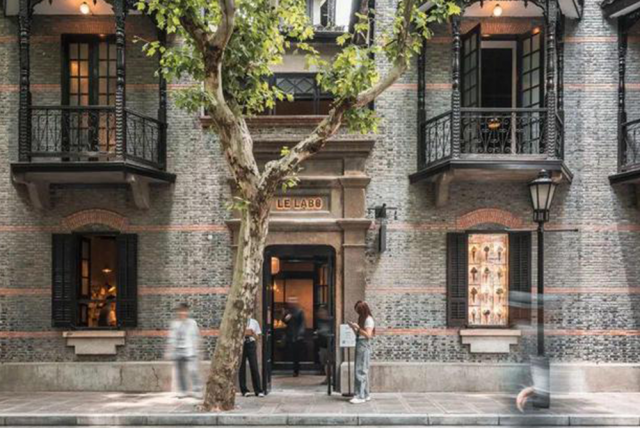 Source: Weibo, Le Labo Shanghai Store – Blending Retro Foreign Architecture
The brand's name, "LE LABO," translates to "the laboratory" in French, signifying the brand's distinctive approach: a dedicated pursuit of the most genuine and natural olfactory experiences. Le Labo adheres to the philosophy of "scent with a soul," focusing on the essence of fragrance itself. The brand's minimalist exterior design is intentionally understated, intended to direct consumers' attention towards the true essence of the perfume rather than flashy packaging.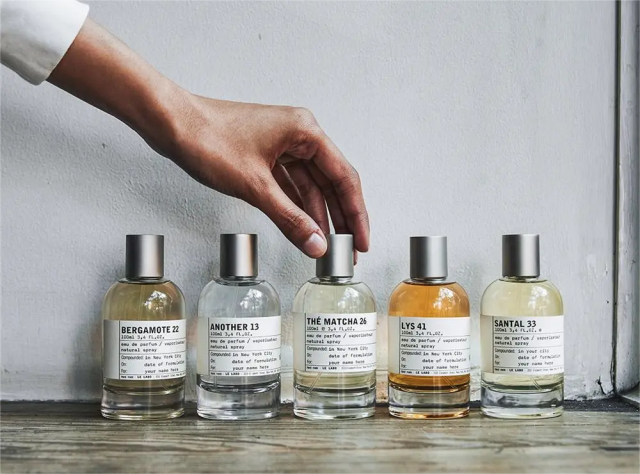 Source: Le Labo Weibo
Le Labo forgoes extravagant packaging and instead adopts a minimalist product presentation. Product names follow a simple formula, emphasizing the primary ingredient and the total number of aromatic elements. For instance, "Rose 31" is named this way. This naming approach empowers consumers to interpret and define the scents themselves, placing the interpretative power in their hands.
The basic Le Labo fragrances come at a rather steep price, reaching €235EUR for every 100 milliliters. Simultaneously, the brand places a special emphasis on the exclusivity of luxury products. Every September, Le Labo introduces a collection of 14 city-exclusive fragrances, requiring consumers to personally visit the designated city's brick-and-mortar stores for purchase. This practice reflects their commitment to opposing the globalization of the luxury experience, emphasizing that a premium luxury experience is not merely something that money can buy.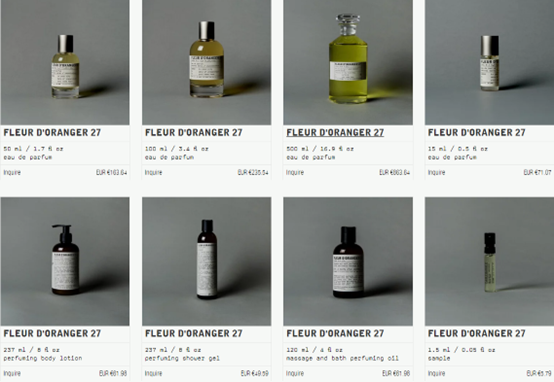 Source: Le Labo Website Price Screenshot
Le Labo has gained widespread recognition online through its unique marketing strategy. The brand adheres to the concept of an open fragrance lab, encouraging consumers to actively participate in the perfume-making process. Store staff engage with customers, learn about their preferences, and create perfumes on-site, allowing customers to witness the perfume's creation. This distinctive store design and customer experience convey the brand's unique ambiance.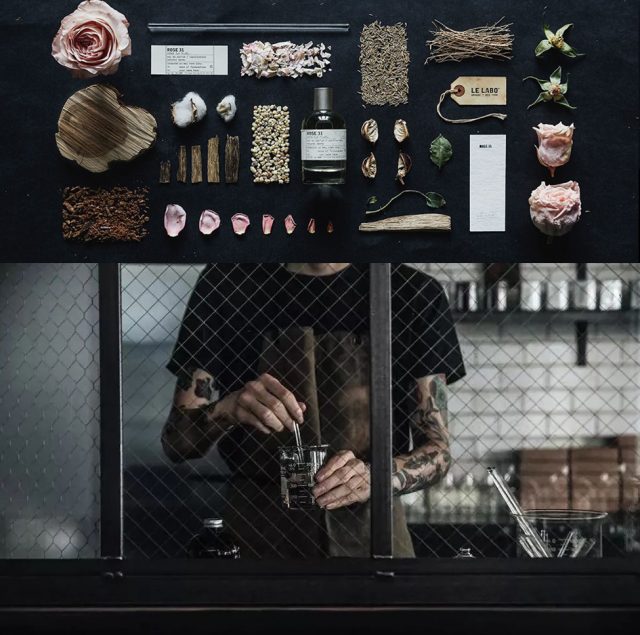 Source: Le Labo Weibo & Le Labo Website
Key Opinion Leader (KOL) and user-generated content (UGC) are widely spread on the social platform RED (Xiaohongshu), including store visits, fragrance blending photos, and collections of various scents. Despite Le Labo's avoidance of large-scale advertising campaigns, this unique customer hands-on experience and adept use of social media set the brand apart in the fiercely competitive perfume market.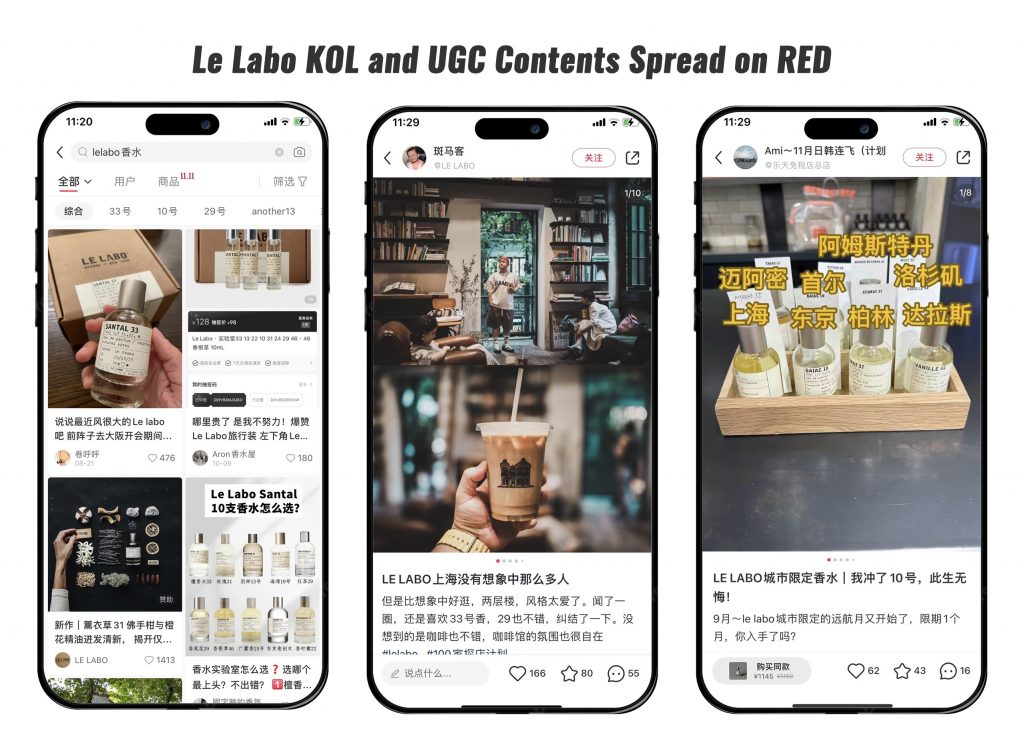 Source: Screenshots of Content about Le Labo Shared on RED
Serge Luten
Serge Lutens embodies the artistry of premium French perfumery, founded in the 1980s through a collaboration between the perfumer Serge Lutens and Christopher Sheldrake. In the Chinese mainland market, Serge Lutens, in line with its distinct positioning, eschewed physical stores and counters. Instead, it established the "Serge Lutens Overseas Flagship Store" on Tmall, employing cross-border e-commerce platforms and proxy purchasing channels to reach Chinese consumers.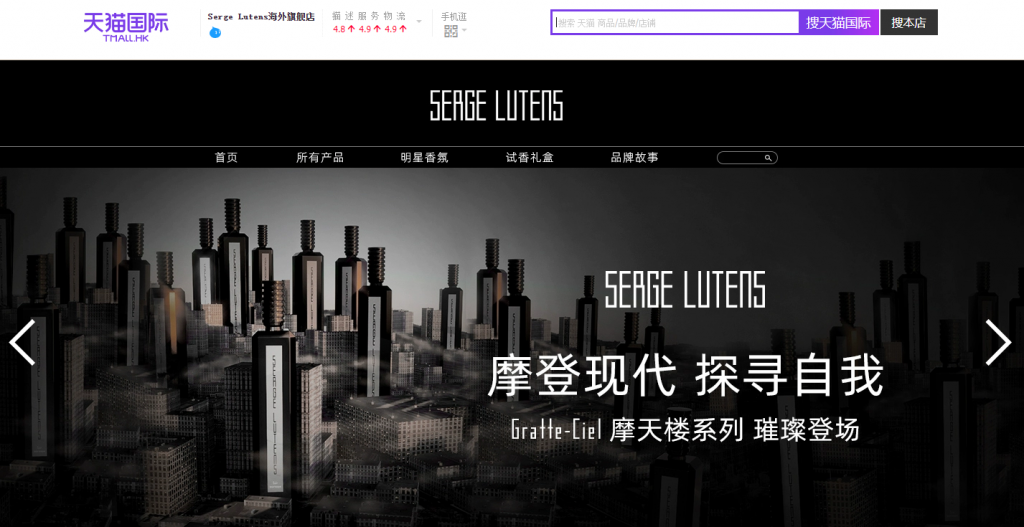 Source: Serge Lutens Tmall Sales Channels Screenshot
The brand represents characteristics of high-end luxury, rich in the tradition of French perfumery art, while also incorporating Oriental fragrance elements. Their perfumes often emphasize deep emotions, offering a unique olfactory experience for perfume enthusiasts.
Serge Lutens' perfume collection is divided into five distinct series, skillfully capturing the cherished elements of Eastern aesthetics appreciated by Chinese consumers. The names of these fragrances, such as "烈女颂词" and "危机四伏," cleverly convey the ambiance and emotions evoked by the scents. The "摩天楼" series, in particular, meticulously employs traditional Chinese bottle designs, showcasing a luxurious, classical elegance that further embodies the essence of Eastern aesthetics.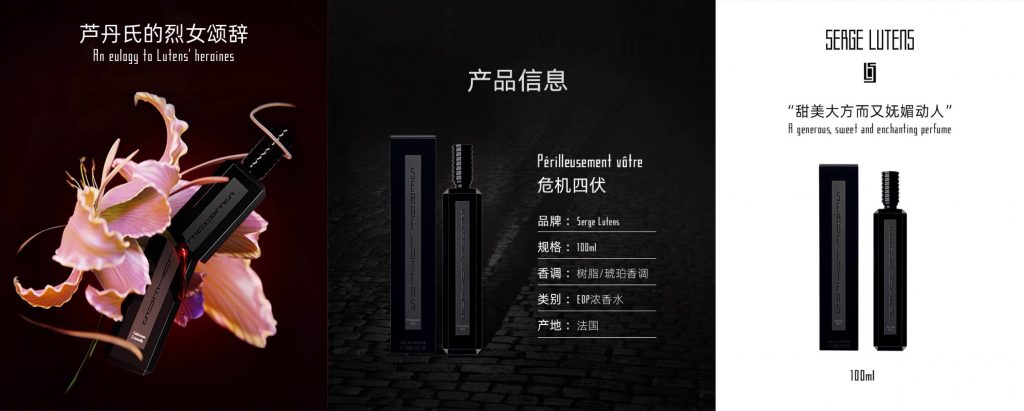 Source: Serge Lutens Tmall Store
In terms of pricing, Serge Lutens offers a 25RMB per milliliter fragrance sample to attract first-time consumers, providing a sense of freshness and a quick way to try out their scents. They also offer a sampling gift set "试香礼盒", adding a special ritual to the perfume selection process, suitable for personal use or gifting. Their classic collection of fragrances is priced at over ¥1000RMB for a 50-milliliter bottle.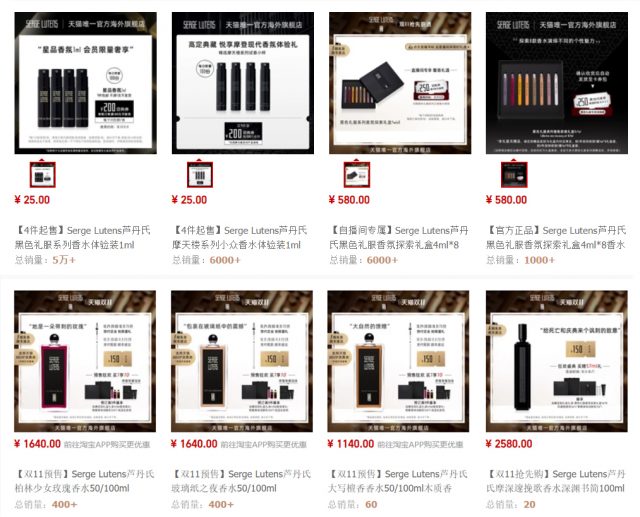 Source: Serge Lutens Tmall Price Screenshot
In terms of marketing strategy, Serge Lutens has been actively promoting its brand through social media, especially on platforms favored by fragrance enthusiasts, such as RED. The brand collaborates with KOLs on RED to launch various "Serge Lutens Review" series, generating a strong interest in their products through fragrance review posts. Solely on RED, Serge Lutens' brand exposure through discussions and topics has accumulated over 100 million of impressions. This initiative helps enhance the brand's visibility and attracts a larger target audience.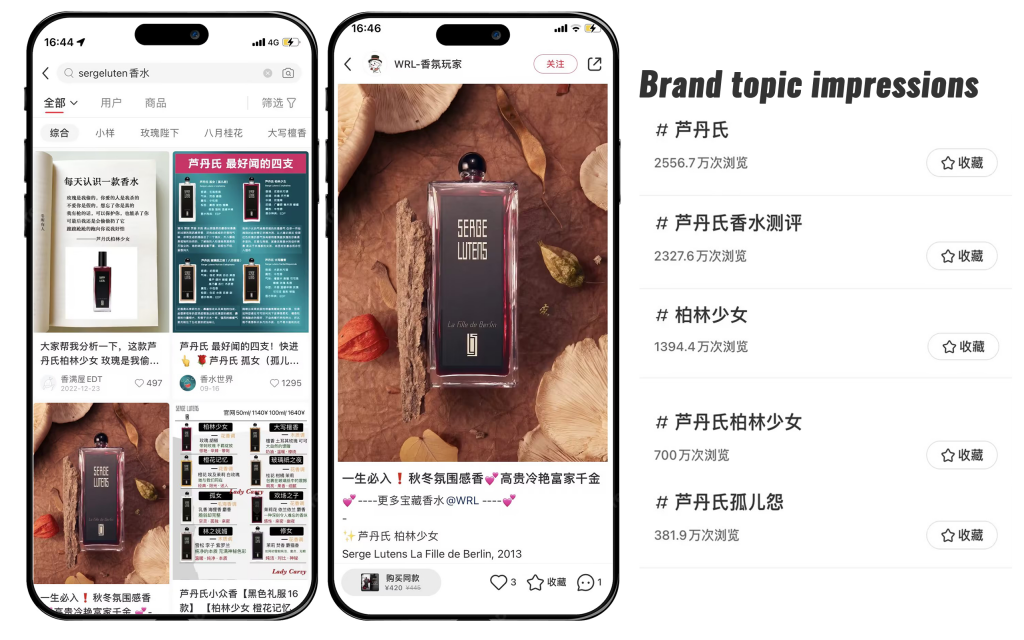 Source: KOLs Posts on RED about Serge Lutens and Brand-Related Topic Exposure
Furthermore, the brand conducts live promotional events on Tmall and Douyin (TikTok), organizing various activities to engage consumers. This live streaming format provides consumers with an opportunity to interact with the brand and make informed purchasing decisions, capitalizing on the popularity of live commerce in China.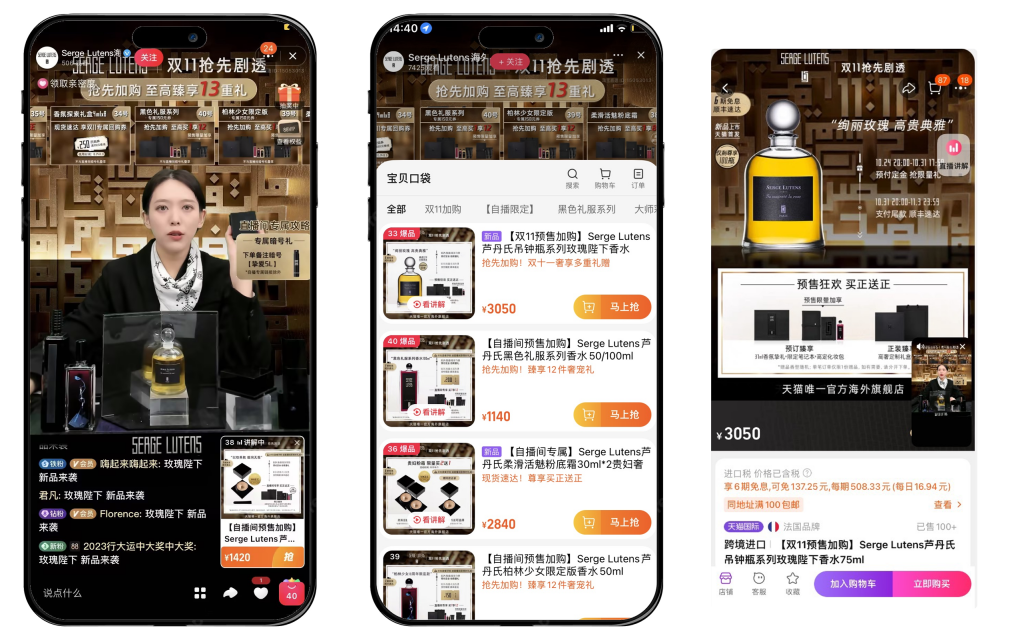 Source: Serge Lutens Tmall Live Stream Screenshots
These cases highlight several key factors for success in the Chinese market that overseas brands should consider in their journey to enter China:
1. Sales Channel Selection:
First and foremost, brands need to carefully choose their sales channels. One approach for a small-scale trial is to use cross-border e-commerce models, avoiding the need to establish physical stores in China, such as setting up flagship stores on platforms like Tmall or directly connecting with consumers through a direct-to-consumer (DTC) model to have better control over sales channels.
2. Brand Positioning or Characteristics:
Brands need to have a deep understanding of the Chinese market to adjust their brand positioning based on local consumer needs and preferences. Consider the unique characteristics of the brand in the Chinese market, whether it emphasizes luxury, eco-friendliness, local culture, and more, to ensure alignment with the target audience.
3. Product Packaging Design:
Product packaging is critical in the Chinese market. Brands can consider adjusting product packaging designs to align with local consumer tastes based on Chinese culture and aesthetic preferences. For example, incorporating Chinese traditional elements or symbols can enhance the product's appeal in the market.
4. Product Pricing:
Pricing strategies should consider Chinese consumers' budgets and purchasing power. Product pricing should be competitive while not undervaluing the product. Consider Chinese consumers' expectations to ensure that prices meet their expectations.
5. Marketing Strategy:
Marketing strategies should be tailored to the Chinese market, including social media promotions, collaboration with local opinion leaders, and online and offline promotional activities. Brands can actively utilize mainstream Chinese social media platforms such as WeChat, Weibo, and RED and collaborate with key opinion leaders (KOLs) to increase brand awareness. Additionally, brands can promote products through online channels like live streaming and organize various consumer-attracting offline events.
Whether they invest significantly in physical stores or opt for a more modest approach via cross-border e-commerce, brands must carefully assess these key elements to lower costs, expand their market share, meet the needs of Chinese consumers, and build a strong brand presence. Ongoing market research and feedback are also vital for a successful entry into the Chinese market, enabling brands to adapt their strategies and tactics in response to shifting market dynamics. This market's allure has drawn an increasing number of high-end brands, and those who adeptly seize the opportunities it offers are poised to excel in the competitive landscape.
To learn how to enter the Chinese cross-border e-commerce market, click here to consult our CBEC experts for strategic guidance!
Related Article
China CBEC | Meet Home Furnishing Brands
China CBEC | Meet China Outdoor Market Trends
China CBEC | Meet the Booming Maternal and Infant Market
China CBEC | Meet Italian Brands FILA Triumph
China CBEC | Meet French Fashion Brands
China CBEC | Meet 2023 Top Sun Care Products Marketing Trends
China CBEC | Meet Top German Brands